vibrators.
Learning what all the buzz is about isn't difficult to do! The first step to take when you're looking for a vibrator is to figure out what you want to stimulate, and how.
vibes for different body parts.
external: surface of the body
The most sensitive spots to vibration are on the surface of the body–especially the clitoris and penis. Plenty of people use vibrators and never include penetration play in their repertoire at all. Vibrators are a great way to facilitate orgasm, alone or with a partner.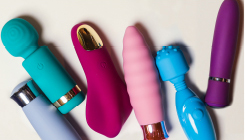 Many external vibrators have a motor at the tip, or are ergonomically designed to hold against the clitoris, the penis, or wherever else you like the feeling they provide. However, they may not work as well inside the body (or in some cases are not designed to be used inside at all).
internal: penetration
There are fewer nerve endings as you get further inside the vagina and anus. Internal vibrators are a good option for exploring vaginal or anal sensitivity, as these areas tend to respond more to pressure and motion, and the motor of many internal vibrators rests right up against the more sensitive zones. Please note that some vibrators are not suited for anal insertion, but we'll explain more below! Enjoying internal stimulation or seeking G-spot pleasure are common reasons to choose an internal vibrator, which can offer great pleasure alone or with added external stimulation.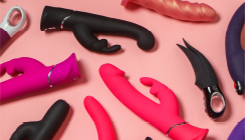 Internal vibrators are a good option for those who have been sexually inactive for a while and would like to get their bodies re-accustomed to vaginal penetration. Some find that choosing a vibrating toy for this purpose helps with blood flow and comfort--and, of course it's important to choose a lubricant you enjoy and that is compatible with the toy's material.
dual stimulation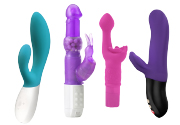 If you want more than just clitoral stimulation or internal stimulation by themselves, there are plenty of vibrators that provide simultaneous clitoral AND vaginal pleasure. Rabbit-style vibrators are some of the most popular, and with good reason–these multi-tasking toys deliver pleasure like no other. Many have dual motors that allow toys independent customization of intensity and/or patterns; they can reach the G-spot while the external stimulator offers amazing clitoral sensations.
air/sonic technology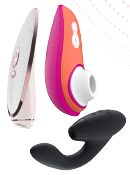 Innovative air/sonic technology, with a reputation for facilitating easy consistent orgasms, has been a game-changer for fans of vibrators and related pleasure products. Designed for direct clitoral stimulation, these toys replicate the sensation of sucking by using rapid air flow, unlike pump toys that rely on actual suction. Some include vibration as well, and clever users may also find these are great nipple stimulators too.
anal vibrations & prostate stimulators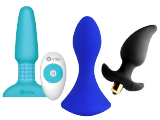 Vibrations can feel wonderful on almost any part of your body and the butt is no exception. The area around your anus is extremely sensitive due to all those excitable nerve endings, and vibrations can act as a wonderful intensifier alongside butt plugs, dildos, oral sex, masturbation or on their own. When using anal toys of any kind, they must have a base, flange, or secure retrieval cord. Always use lubrication with toys as the anus does not produce its own lubrication.

Some toys used for anal insertion are specifically designed with prostate stimulation in mind. That means the toys are shaped (sometimes with a curve) to apply pressure to the prostate, an organ located right through the rectal wall, about 2-4 inches in. G-spot and prostate stimulators work pretty much the same way and are good for finding both sweet spots--but remember that a prostate search requires a toy that has a base.
strong or soft vibration
When shopping for a vibe, it's often helpful if you know how sensitive you are (or your partner is). If you have used a vibrator before, what felt good to you then (or was too much, or not enough)? If you're looking for your first toy, consider whether you like strong or mild sensations. Or perhaps you like different things at different times. While vibes create a sensation that's undeniably different from anything else, if you know that you and/or your partner prefers a soft touch or a firm one, that will help you narrow the choices. And many vibrators are multi-speed, with low-to-high choices so you can explore the whole range. We have intensity ratings on each vibrator's product page to help you decide.
You can also consider this: a small vibrator (or longer ones with narrow tips) will stimulate fewer nerve endings at once--it might seem like quite an intense sensation to some--while a vibe with a larger surface area (like a wand, or the external style you hold in your palm) spreads out the sensation. Each type has fans! But if you have a strong preference for one finger focusing on the clitoris or other sensitive area, the focused kind might please you best, and if that's too much and you like the spread-out sensation of the touch of a palm, try the larger-surfaced style. Everyone's different regarding the kind of sexual sensation they like, so we suggest that you experiment with more than one type of vibe.
what material is best?

Harder plastic and metal tend to transmit more vibrations, but some people find these materials too firm. Softer materials can create milder sensations, which may work better for people who find that less is more--though some softer vibrators can also be pretty powerful. Firmer, less flexible toys may be better if you want to explore G-spot or prostate play. Silicone is easy to clean and body-friendly and has many fans!
Commonly Asked Questions:
Will I become desensitized if I use a vibrator too often? Addicted? Ruined for other types of sex? These are common beliefs–but no! "Vibrator addiction" is basically a pretty judgmental way of saying a person really loves their vibrator and feeling pleasure–and there's nothing surprising or read more
How do I introduce vibrators into partner play? Many vibrator fans assume their partner won't like the toy that helps them have an orgasm–never thinking it might please their partner just as much! Step one of this introduction is being comfortable about having and using a vibe in the first place. read more
How do I clean my vibrator? A waterproof vibrator is very easy to clean–wash it off with mild soap, rinse thoroughly with water. If it's not waterproof, you'll need to take care and cover the battery compartment or charger connection, and perhaps wipe off the soap rather than rinse it. read more
What kind of lubricant should I use with a vibrator? If you are using an external vibrator you may find you don't want lubricant (but try some to see if you like it–many do!). For internal play, lube is a great addition (and for anal, it's a must). Use the lube you like best, but be aware that silicone lube read more