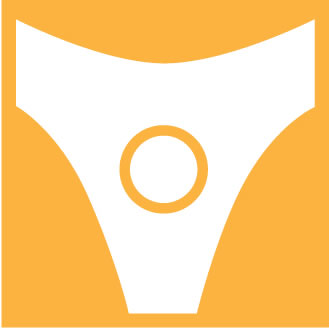 How To... Good Vibrations Sexual Education: Strap-on Harnesses
Need a little information before making an informed purchase? Read through our Good Vibrations Sexual Education How To Articles for ideas about choosing the right toy for you, whether it's a vibrator, lube, or any of our high quality sex products.
If you still need help and have questions about the toy in your shopping cart, contact our customer service center at 1-800-BUY-VIBE, customerservice@goodvibes.com, or by Live Chat.

See all How To Articles

Shop Strap-on Harnesses & Dildos
---
Strap-on Harnesses How To Articles
What's the Difference in Strap-on Materials
Leather harnesses look and feel great, but they're harder to clean.
Nylon and fabric harnesses can be machine washed. Put them in a lingerie bag so they don't get tangled on the machine and line-dry them.
Vinyl harnesses can be wiped clean with soap and water.
How's the Fit?
Single-strap harnesses fit like a G-string. They give you more control, but some may find them uncomfortable to wear.
Two-strap harnesses take a bit more practice, but they're often more comfortable and you don't have to take them off to be on the receiving end of genital stimulation.
Low-rise harnesses keep the base of the dildo on the pubic bone, giving you more control. They can also provide pressure on the clitoris.
Thigh harnesses fit around the leg (or a chair seat or pillow). They often work best when the person on the receiving end controls the motion.
How to Use a Harness
Harnesses can take a little practice. Give yourself some time to experiment.
D-rings are easier to adjust, but they can slip a little. Try looping the loose end into the waist band to help secure it. Buckles are more secure, but they take a little more effort to get just right.
Leather harnesses will stretch a bit when you first use them, so you may need to tighten the straps a few times as they do.
When you change positions, you may need to tighten or loosen your harness, especially the leg straps.
If you want a smaller or larger toy, take a look at the harnesses with changeable rings. We offer a set of rubber replacement rings so you can get the perfect fit.