Pegging: How to have Strap-on Sex with a Male Partner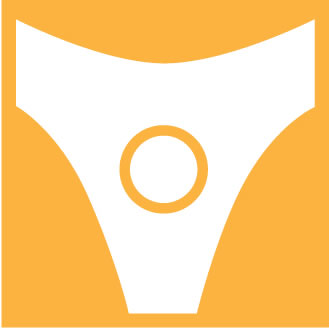 GoodVibes.com > How To Articles > Harnesses
It's great that more and more men and their partners are discovering how much fun anal play and prostate pleasure can be! If you're thinking about getting started, we have some tips for things to consider.
First, check out our how-to pages on anal play and the prostate. You may also want to check out our information about dildos.
When trying anal play for the first time, some men and their partners dive right in, enjoying it right from the start. If your first experience is full of fireworks, great! But if not, don't worry about it. Anal play often feels very different than other kinds of sex and it can take a few times to find what works for you.
It may work better for you if you take it nice and slow, without rushing to get to the "good stuff." The pelvic muscles sometimes hold a lot of tension, especially if he's nervous, so give him some time to relax into it. Remember -- anal play is about letting the anus relax, rather than forcing it to stretch.
Some people like to use strap-on harnesses as part of power play. Or perhaps you're interested in role play or playing with gender. But other people use them simply to provide hands-free dildo use, which keeps your hands available for other things. Whatever your desires and fantasies, there are plenty of ways you can enjoy your strap-on.
You may find that his erection gets softer with anal penetration. That's quite common since the pelvic floor muscles need to relax to allow your finger or your toy to slip inside. Don't take it as a sign that he's not enjoying himself. Feel free to check in and ask him how he's doing. Remember -- this is about both of you having fun, so take some time to figure out what works for both of you!