Magic Wand Original
Good Vibrations' most popular vibrator
Plug-in
2 speeds
Formerly called the Hitachi Magic Wand
For North American use only, 110-120 volts
Please select a product option first
Goes Great With This
Magic Wand Original
Description
Formerly called the "Hitachi Magic Wand," this is Good Vibrations' most popular vibrator. The foot-long, two-speed Magic Wand has a soft, tennis ball sized head which is equally good for squeezing blissfully between your thighs or for running up and down a sore back. The ideal choice for those who want a vibrator with many uses. Cord Length: 6'
120 volts, 60 Hz, 10 watts.
100 Hz (6000 vibrations/minute) or 83 Hz (5000 vibrations/minute).
Add some variety to your Magic Wand with a Silicone Pop Top, or Pop Top Deluxe G-Spotter attachment.
Good Vibrations is a certified retailer of the Magic Wand Original® Vibrator. Due to a distributor agreement, we are only able to ship Magic Wand® Original to addresses within North America.
For North American use only, 110-120 volts. Do not use with voltage converter.

The electric vibrators we carry are manufactured for North American electricity standards (110/120 V, 60 Hz) and may not be compatible with electricity standards for other regions. Even with voltage adapters, some electric toys may still not function and become damaged. We recommend choosing the Magic Wand Plus or Magic Wand Rechargeable instead. Using an electric toy in a region with different electricity standards is at your own risk. Good Vibrations cannot take returns on products used in this way.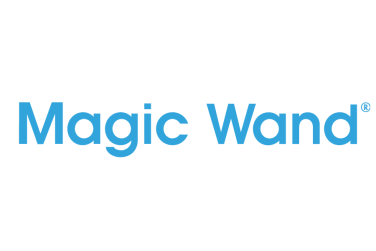 Brand: Magic Wand
Product Details
Material: Vinyl / ABS
Texture: Smooth
Color: White
Power Source: Plug In
Length: 12 inches
Diameter: 2.25 inches
Intensity: 5/5
Volume: 5/5
Warranty: 1 Year
Only ships to the countries: CA, US