penis toys.
The penis can enjoy a variety of sensations and we have toys for that! Penis toys can be used solo or with a partner and can stimulate the whole shaft or focus on specific parts.
When choosing a penis toy, consider the types of sensation you like best, which helps you imagine how the toy might enhance your sexual experience. Some find that penis toys like cock rings can help delay orgasm, and others may even help you have multiple orgasms. Your mileage may vary, so explore! Incorporating penis toys into partner play can be pleasurable for both people plus can open up dialogue--which itself can improve your sexual experiences.
Types of toys
rings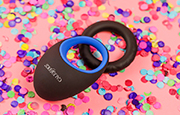 Wearing a cock ring around the base of the penis restricts blood flow and creates pressure you may enjoy. The ring constricts the penis and keeps the blood inside; blood flow is what creates and sustains the erection. Many users enjoy the sensation of squeezing or fullness that cock rings create. Some find that cock rings delay orgasm, and some report that they are more sensitive when wearing rings and orgasm more quickly.
When you are new to cock rings, take them off after about 15 minutes as you get accustomed to the sensation. Some enjoy wearing a ring during orgasm; others prefer to take them off before they orgasm. Rings with snaps or are stretchy are easier to take off with minimum interruption and let you experiment with comfort and sizing.
ways to wear a cock ring
Traditionally, rings are worn around the whole cock-and-balls package, sitting behind the scrotum, but some may prefer wearing their ring around the shaft only--and some are designed specifically to be worn this way.
most common styles of cock rings: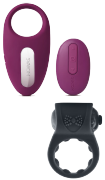 Vibrating cock rings
These can be worn behind the scrotum or in front. Some of them are snug enough to provide the squeezing sensation that makes cock rings popular, but others simply hold the vibrator in place, without much constriction. You can wear these toys during intercourse to stimulate your partner externally. Place the vibe on top of your penis for face-to-face positions and on the underside for rear entry. You can also wear the ring behind the scrotum with the vibrator underneath your testicles for extra sensation during solo sex or sex with a partner. You can also use a vibrating cock ring on a dildo or slip it over a couple of fingers.

Using your new cock ring might take some getting used to, so explore what feels more comfortable to you. For stimulating a partner, try a slow grind rather than thrusting, since that will keep the vibrator in more constant contact with the clitoris.

Single-strap adjustable
These are easy to use and a great starter ring. Place the strap behind the scrotum and, adjusting for snugness and comfort, fasten over the top of the penis. They are quickly removable if sensations become too intense or you're just ready to take it off.
Single solid
Solid rings are best for those who already have experience wearing cock rings, though some are extremely stretchy and can work well for anyone. To put one on, start when the penis is soft. Tuck the testicles through the ring one at a time, then tuck the soft penis through and adjust. Some like to use a bit of lubricant to help this process, and some find it's useful in removing the ring, too. To remove from a flaccid penis just reverse the order: "untuck" the penis first, then withdraw one testicle and then the other.

Cock and ball
Some toys are designed to accommodate the penis and testicles separately. Generally, you put these on much in the same way the solid rings are used, but instead of putting everything through one single ring, there is an opening for both testicles, and a separate but attached one for the shaft.
sleeves/strokers

Strokers and sleeves are toys that wrap around the penis. They're a great way to add variety and new sensations to hand jobs and solo play. They feel amazing because most are sized to engulf the penis, made with soft materials to feel fantastic, and some styles add vibration too. In most cases you move these as you desire, though some have a motor that lets them provide up/down motion themselves. Strokers and sleeves can be open- or closed-ended; open-ended ones are easiest to clean, and closed-ended toys may add a sensation of suction to your play.
Sleeves are usually textured inside, with patterns or nubs in the soft material that can create various sensations. Use them to focus on the head, or stretch the sleeve down the shaft to add more contact.
Vibrating Penis Toys, unlike most sleeves, let you enjoy some buzz with your penis play. Some people use vibrating rings for solo enjoyment, wearing them right below the sensitive head instead of using them during intercourse. Some enjoy vibration along the whole shaft. Fortunately, there are many vibrating styles to explore! They can be closed-ended like the Alex Thrusting Stroker, open-ended like the Pulse Solo Lux Stimulator, or they may be shaped especially to pleasure the frenulum and shaft, such as the Manta.
Don't Forget Lube! We recommend water-based lubricant for use with your sleeve or stroker.
pumps
Pumps create a vacuum over a body part to draw blood into that area, a sensation that many find pleasurable. The part being pumped will temporarily swell, but will soon return to its previous size once the pump is removed. Though some believe pumps will permanently increase penis size, research has shown that they offer minor effects, at most.
If you are using the pump on a penis, you may find a pump-induced erection can be maintained a little longer by wearing a cock ring after the pump is removed. Remove the cock ring after 15 minutes or if use becomes uncomfortable.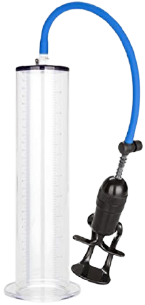 How to Use Pumps
Apply thick lubricant generously around the body part you want to pump; this will act as an air seal to create a vacuum. Applying plenty of lube will also keep your skin moist and prevent it from sticking to the sides of the cylinder as you pump. You may also wish to shave or trim hair around the area to aid in creating a vacuum.
Hold the cylinder against your body so that it encases the body part you want to pump. Gently squeeze the pump handle or bulb until enough suction is created to hold the cylinder against your body without the support of your hands (this may not be possible with some models). Go slowly; don't overdo it. Don't pump for more than 15 minutes at a time. If you feel any discomfort, discontinue pumping. Pumping while the pressure is low can result in a sensation that resembles sucking. Some people find warmth during pump use increases comfort and the potential for engorgement. Experiment to find the most pleasurable level of pressure and sensation for you.
*Our pumps are intended as masturbation enhancers only, not as tools for penis enlargement or the treatment of erection difficulties.
*While the products we offer are safe and easy to remove, if you are living with diabetes, a vascular or nerve disorder, or have any concerns using these products, consult your healthcare professional.
Be sure to thoroughly clean your toys after each use. In addition to hygienic reasons, it will also help preserve the integrity of your toy.
Commonly Asked Questions:
Does it hurt to wear a cock ring? Cock ring use should not cause any discomfort, and if you find that it does, it is likely the wrong size and/or fits you incorrectly. It should be snug, but not tight.
Can I try my partner's vibrator on my penis? You can--with their consent! The clitoris, penis, and anal opening are all richly endowed with nerves that sense vibration, and many people (of all genders) enjoy the sensation… read more
Do you have anything that will make my penis bigger? We do not carry any products that are advertised as making penises grow permanently larger, because we are not at all convinced that they both work as promised, and are safe. Pumps will often... read more
How do I discuss using toys with my partner? Penis toys can be great fun when used solo, and with a partner. Bringing up toys is much like suggesting other sexual options and types of play--be positive, find out what your partner might like... read more