anal toys.
Anal sex should be pleasurable, not painful. A little knowledge can make a lot of difference. Learn from our selection of how-to books, as well as anal toys for beginners and experienced players.
Before getting started with anal toys, there are three important components to anal play that you should know:
relaxation
The anus gets its reputation for tightness because of two separate muscles that surround it. The external muscle is under your control so most people can learn to tense and relax it fairly easily. The internal muscle is controlled by the same part of your nervous system as your breathing and heart rate. The more relaxed you are, the more relaxed this muscle will be. Stress and anxiety, including worry that anal sex will hurt, can make your anus tighten, resulting in less pleasurable or possibly painful anal sex. Try stimulating the outside of the anus first–getting turned on is a great way to help relax the anus.
lubrication
Unlike the vagina, the rectum doesn't produce lubrication, so everyone needs lube for anal sex. Even if you're only playing externally, lube will still enhance your experience. There are a lot of options to choose from based on your particular preference–and what feels good to you.
Types of Lubricant:
Gel: This is a thicker type of lubricant that creates a more cushioning surface to protect sensitive tissues.
Water-based: Offers a slippery texture that many people like, but they tend to dry out after a while.
Silicone: Does not dry out which makes it great for anal play. Silicone lube is waterproof and can be used in the tub, but clean-up can be tricky, as it can't be simply rinsed away. Some silicone lubricants can damage silicone toys, so protect them with a condom.
communication
Being able to talk with your partner about anal play is essential to making sure that you're both enjoying it. Check in with each other about your physical comfort, what sensations feel good, or if you want to try something different. Newcomers to anal play might have difficulty describing exactly what they want. Try offering different options and ask which feels better. Even people who have lots of anal play experience find that talking while playing makes it more pleasurable.
Types of anal toys
butt plugs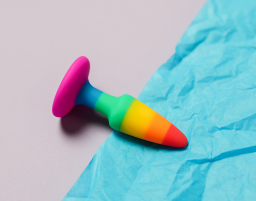 If you enjoy a feeling of fullness in the anus but don't want much movement, butt plugs might be your preferred anal toy–they're designed to stay stationary in the rectum, hence the name. They come in a variety of shapes and sizes, are generally tapered, and have a neck that is slimmer than the rest of the plug, so the muscles can close around it and hold it snugly. All plugs have a base that serves to keep the toy from slipping all the way inside. They're available in a range of sizes and materials, including silicone, which is great for beginners and experienced fans alike, and very easy to clean. Butt plugs are enjoyed by all kinds of people; those with prostates might especially like them. Many users like to wear a butt plug when engaging in other sexual activities to add to their sensation and arousal.
anal vibrators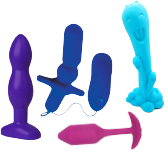 Vibration can feel wonderful on almost any part of your body and your butt is no exception. The area around your anal opening is extremely sensitive due to all those excitable nerve endings, and vibrations can act as a wonderful intensifier alongside butt plugs, dildos, oral sex, masturbation or on their own. Not all anal toys vibrate, but those that do can add relaxation as well as pleasure--just remember to choose only vibes that have a base, so they cannot slip all the way inside.
dildos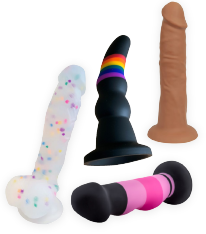 You can enjoy using dildos in a harness or on their own; for those who enjoy thrusting, they're a great choice, and they come in a wide array of sizes, textures and styles. Beginners to anal dildo use might want to choose a toy on the smaller and smoother side, but whatever you pick, you will be able to control speed, depth, and angle of play and learn what you like. Remember to select a dildo with a base! This will also be a factor in using your toy in a harness, if you want to try that kind of play. The harness ring needs a large enough base to keep your toy attached and stable.
anal beads

Anal beads are exactly what they sound like–a series of beads that are either strung together on a cord or attached to a plastic or silicone stem and inserted into the anus. They stimulate the anal opening as it opens and closes around each bead. For some people, this feeling alone can induce orgasm, and for others, the removal of beads during orgasm can intensify sensations as the anus opens and closes around each bead.
prostate stimulation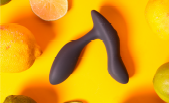 Some anal toys are designed specifically to stimulate the prostate and may have a more pronounced curve than other toys. People without prostates can enjoy these too! The prostate is an organ that is most easily stimulated via the anus–it's around three inches into the rectum, toward the front of the body. Like the G-spot (which it is homologous to), it responds to pressure and stroking, and may also like vibration a lot. Strap-on sex and other kinds of insertive anal play might also be quite pleasurable to the prostate.

Commonly Asked Questions:
How do I introduce anal play into my relationship? Introducing anything is easier and more enjoyable if you can comfortably talk about sex, so start there. It's also a plus to know about how anal touch and penetration feels from the receiving end, so if your goal is to be the giver, read more
I want to try this but I'm nervous about poop. Lots of people share this worry–but it's really easy to rinse out the rectum and remove any fecal material there. Try one of the enema or douche items we carry; use clean, lukewarm water (wrist temperature, read more
I want to try anal on my boyfriend but he calls it "gay sex." It's ironic that anal sex is so gendered and so associated with one kind of sexuality, because virtually everyone has an anus and thus the potential to like anal play! There is nothing about that experience that is dependent on a person's gender, read more
Doesn't anal sex hurt? Only if you're doing it wrong! Learning about and practicing "relaxation, lubrication and communication" will help avoid painful anal experiences; this is also why we say that the receiving partner is in charge. read more