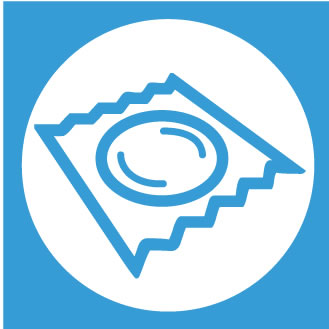 How To... Good Vibes Sex Education: Condoms & Safer Sex
Need a little information before making an informed purchase? Read through our Good Vibrations Sexual Education How To Articles for ideas about choosing the right toy for you, whether it's a vibrator, lube, or any of our high quality sex products.
If you still need help and have questions about the toy in your shopping cart, contact our customer service center at 1-800-BUY-VIBE, customerservice@goodvibes.com, or by Live Chat.

See all How To Articles

Condones
---
Condoms & Safer Sex How-To Articles
Safer Sex for Latex Sensitive Folks
---
Condoms & Safer Sex Supplies
About Condoms
When used correctly, condoms are an effective way to significantly reduce the risk of unintended pregnancy and many sexually transmitted infections.
Most condoms are made of latex, although there are a few non-latex brands available.
Almost all condoms are coated with a silicone-based lubricant to keep the latex from sticking to itself. Dry condoms are powdered with cornstarch.
A little extra lubricant both inside and outside the condom can make it feel better.
What Kinds of Condoms Are There
Most condoms are roughly the same length and width due to FDA regulations, but there are some differences among brands.
Some condoms, such as Trojan, Durex and Lifestyle, are made of slightly thicker latex. While this can reduce sensations, some men find that the decreased sensitivity helps them delay their orgasm.
Other condoms, such as Kimono, Maxx, and Skinless Skin, are made of thinner latex that transmits more sensation. But they're just as strong as other brands and all condoms meet or exceed the FDA standards for safety.
Some condoms such as Pleasure Plus and Trojan Twisted Pleasure Condom have loose pouches at the head. This provides extra sensation for the guy wearing them, especially with a few drops of lubricant inside the condom.
Non-latex condoms are great for people with latex sensitivities.
Some people enjoy ribbed or studded condoms, while others find that they don't add much sensation.
Our Condom Chart describes the differences among the various brands.
Gloves are a great way to protect both you and your partner. They cover up small cuts in the skin, smooth out rough edges and make clean-up a snap. They're especially good for anal play. If you only want to cover one finger, try a finger cot.
If you're concerned about safer oral sex, dental dams can be used during cunnilingus and rimming (oral-anal sex). These rectangles of latex or plastic can be held against your partner's vulva or anus while you lick the other side. Put a drop of lubricant on the receiving person's side to enhance the sensation.