Sinclair Sexsmith's Top Toys
(20)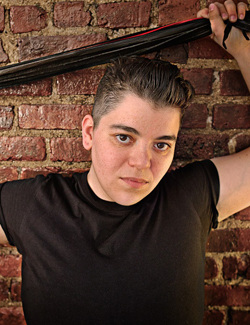 Sinclair Sexsmith (they/them) is "the best-known butch erotica writer whose kinky, groundbreaking stories have turned on countless queer women" (AfterEllen), who "is in all the books, wins all the awards, speaks at all the panels and readings, knows all the stuff, and writes for all the places" (Autostraddle). They've written at sugarbutch.net since 2006, recognized numerous places as one of the Top Sex Blogs. Sinclair's gender theory and queer erotica is widely published in online and in more than thirty anthologies. Sinclair has edited Erotix: Literary Journal of Somatics for Body Trust, Best Lesbian Erotica 2012, and Say Please: Lesbian BDSM Erotica. In 2015, they published a six-novella series, which includes Bois Will Be Bois: Butch/Butch Erotica and The Dyke In Psych Class: Butch/Femme Erotica. Their short story collection, Sweet & Rough: Queer Kink Erotica, was a 2016 finalist for the Lambda Literary Award. They identify as a white non-binary butch dominant, a survivor, and an introvert, and they live in Oakland, California on Ohlone land with their boy. Follow all their writings at patreon.com/mrsexsmith.
Here are some of Sinclair's favorite products.
Active filters
Click to remove filter.