Press Releases
You are viewing: News and Events: Press Releases: Good Vibrations exclusive retail sponsor of Megan Andelloux's National Study Sex College Tour
| | |
| --- | --- |
| For Immediate Release | September 13th, 2011 |
Media Contact: Camilla Lombard
Events and Publicity Manager
(415) 974-8985 ext.201
camillal@goodvibes.com
Good Vibrations exclusive retail sponsor of Megan Andelloux's National Study Sex College Tour
Pioneering Sexual Wellness Retailer Good Vibrations Helps Bring Sex-Ed to the Masses!

Good Vibrations High Res Logo - click to download
San Francisco, CA -- (September 13th, 2011): This Fall, students will once again swarm college campuses across the nation. Rigorous courses will give them a chance to learn about any subject their hearts desire, but will their coursework cover sexuality? Megan Andelloux, a.k.a. "Oh Megan," a certified sexologist and educator, has created The Study Sex College Tour to broach this topic, and Good Vibrations is the official sponsor.
Andelloux travels the country providing workshops that show human sexuality can be taught in a fun and informative manner. "The way sexuality is often discussed, especially with young adults, is based on shame and fear. Sexual health and pleasure should not be divorced; to be effective and comprehensive, we must teach both. This tour was designed to further this idea and show that people (who choose to) be sexual can do so in ways that best fit their comfort levels and lifestyle."
Good Vibrations, the trusted San Francisco-based company that takes pride in providing accurate information on sexuality and toys for grown-ups, has always been committed to bringing the best sex-positive information and education to the world, whether it's in their stores with their highly trained Sex Educators/Sales Associates, at their popular workshops, or through their Off-Site Sex Education Program managed by staff PhD's. All participants, regardless of location, will be able to find the products discussed and shown during Oh Megan's presentations on the Good Vibrations website, which has a special section for the SSCT.
Megan Andelloux's National Study Sex College Tour
Andelloux is a certified sexologist and educator, the founder of The Center for Sexual Pleasure and Health, and a regularly booked and highly popular Good Vibrations' workshop teacher. She travels the country giving fun and informative workshops, dispensing solid and education based advice, and making sure everyone has the information they need to have fun, safe, and pleasurable sex.
Student groups that bring Andelloux to speak on their campus are entered into a competition where they are graded on their communication, program development, marketing and reach. At the end of each semester, the group with the highest overall score receives a basket filled with SSCT featured products. "I'm very excited to have such great companies supporting a way to promote safer sex and sex-positivity to the younger generations. It's a win-win for everyone! Brand recognition, safer sex information, and most of all, a demonstration that open discussions of sexuality can be done!"
The tour officially launches September 15th, 2011 and carries on through May 2012. Various colleges have already signed up for Andelloux's unique presentations that bring medically-accurate and sex-positive education, brand awareness, and information on company ethics to young adults.
As the official sponsor of the Study Sex College Tour, Good Vibrations has collected Megan's favorite sex toy suggestions so if you've heard her talk about a toy, lubricant, or other product, you can easily find them. And if you'd like to learn more about the tour, visit Ohmegan.com, check out the videos on YouTube (youtube.com/studysexcollegetour), or follow the Twitter hashtag: #SSCT. Megan Andelloux, aka, Oh Megan can be reached at studysexcollegetour@gmail.com or 401-345-8685.
Megan's Current Schedule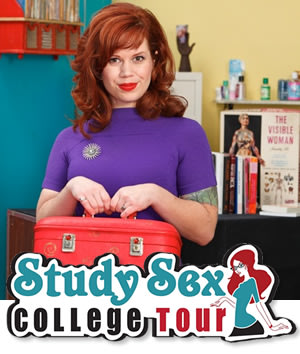 September 21 Rhode Island College
October 5 Clark University, MA
October 7 Widener University, PA
October 19-20 Colorado Youth Matters Conference
October 24 Widener University, PA
November 1 & 2 Brown University, RI
November 10-12 Sex Workers Health Care Issues Conference, GA
November 18 Bay Path College, MA
November 30 Holyoke Community College, MA
Dec 9-11 Center for Family Life Education Conference, Somerset, NJ
Feb 5-11, 2012 Yale University Sex Week, CT
Feb 17-19, 2012 Brown University IvyQ, RI
April 11, 2012 Holyoke Community College, MA
April 25, 2012 Johnson and Wales University
May 18, 2012 Marriage and Family Conference, RI
About Good Vibrations
Good Vibrations is the premier retailer trusted since 1977 to provide high quality products, education, and information that promotes sexual health, pleasure, and empowerment. We invented the concept of the clean, well-lighted vibrator store and we're proud to provide a safe and welcoming environment where customers can shop for sex toys, books, movies, and attend workshops.
###