Uberlube
Silicone lube with vitamin E
Silky and long-lasting
Glass bottle with pump top
Can be used as a massage oil
Please select a product option first
We're sorry. This product is not available at this time.
Description
Here's a very high-quality, super-slippery silicone lubricant that's safe with latex, maintains sensation while reducing irritating friction, and is a good option for users with sensitivities. In an elegant, treatment pump-equipped glass bottle that ignores gender cues in its packaging, it looks chic and subtle in any room. Scentless, tasteless, non-staining and never sticky, tacky or oily—its sexy, silky texture keeps working as long as you keep playing.

Made in USA

Please Note:
We recommend using a water-based lubricant with silicone toys as some silicone lubricants may damage some silicone toys when used together. When using a silicone lubricant on a silicone toy, we suggest covering your toys with a condom in order to avoid incompatible combinations. You may also do a spot test by putting a drop of the silicone lubricant that you wish to use on the bottom of the base of your toy for at least 5 minutes. Wipe it off and check to see if there's a raised or sticky area, or other reaction. If so, cover your toy or use a different lubricant with it.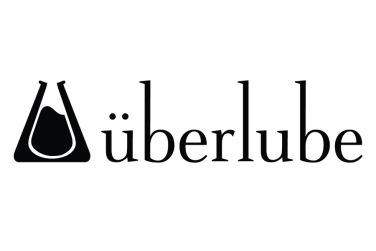 Brand: Uberlube