Sliquid Studio Silver Silicone Lubricant
Web Exclusive
Fans of silicone lubricants have even more to love with Sliquid's luxe new Studio Collection. Concentrated, slick, long-lasting and Kosher
Please select a product option first
We're sorry. This product is not available at this time.
Description
Fans of silicone lubricants have even more to love with Sliquid's luxe new Studio Collection. Concentrated, slick, long-lasting and Kosher, Studio Silver comes in an elegant and discreetly labeled custom glass bottle with an aluminum pump top that's designed to look attractively at home on your bedside table, dresser or anywhere you'd care to keep it handy. Great for sensual massage – full body or genital — and all other types of sex play, due to its long-lasting quality and sexy slipperiness. (Note: silicone lubricants leave you super slick to take care getting into the show after you've slathered with it. Some silicone may stain clothing and sheets.)
Please Note:
We recommend using a water-based lubricant with silicone toys as some silicone lubricants may damage some silicone toys when used together. When using a silicone lubricant on a silicone toy, we suggest covering your toys with a condom in order to avoid incompatible combinations. You may also do a spot test by putting a drop of the silicone lubricant that you wish to use on the bottom of the base of your toy for at least 5 minutes. Wipe it off and check to see if there's a raised or sticky area, or other reaction. If so, cover your toy or use a different lubricant with it.
Good Vibrations will not accept returns or exchanges for defective silicone items that have been damaged by using them with a silicone lubricant.

2012 X-Biz Awards "Sex Lubricant Company of the Year"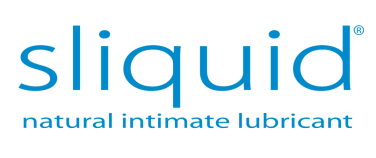 Brand: Sliquid
Product Details
Warranty: 30 Days