Duet Flex Vibrator by Crave
Duet Flex Vibrator by Crave
Web Exclusive
This quality petite silicone vibrator is perfect for solo use or adding erotic sensation when playing with a partner. Rechargeable, waterproof, and equipped with multiple vibration intensity levels and modes, plus cleverly-designed flexible tips
Please select a product option first
We're sorry. This product is not available at this time.
Description
This quality petite silicone vibrator is perfect for solo use or adding erotic sensation when playing with a partner. Rechargeable, waterproof, and equipped with multiple vibration intensity levels and modes, plus cleverly-designed flexible tips perfect for offering stimulation around the clitoris! The two quiet vibrating "ears" that operate independently from each other, offering twice the intensity of other vibes and the possibility for perfect external positioning. Try it on nipples, labia, and anywhere on the body you love sensation. Shaped for external clitoral stimulation, the dual motors at the tip offer focused vibration while their flexibility allows you to press them into the contours of your body (or closer together), further varying the sensations you can enjoy. USB rechargeable with travel lock, the silicone cap at the end slides off to reveal a hidden USB charger. The included travel sleeve makes this a super-portable "grab-and-go" vibe.
Duet Flex Vibrator by Crave
Black, Pink, or Blue Silicone with gold nickel-free plating metal band
Waterproof
4.6" x 0.8" x 0.6" (11.6cm x 2cm x 1.6cm )
USB Rechargeable
Please note: This item is not eligible for discounts or promotions.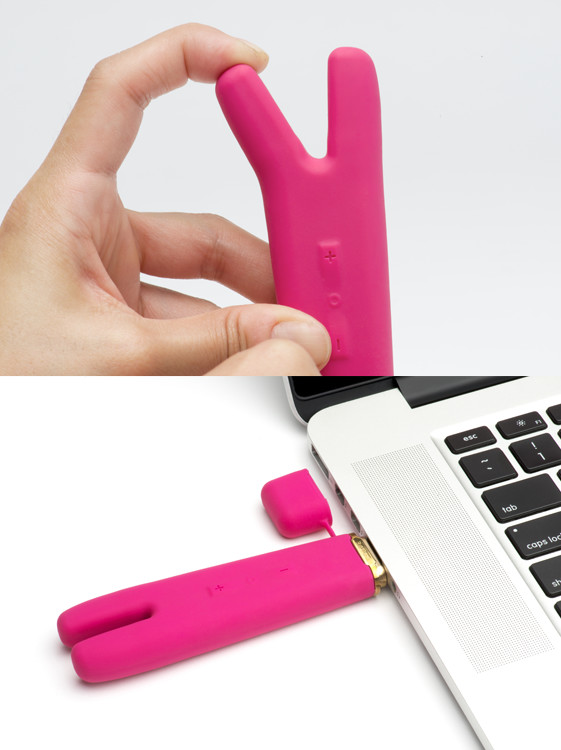 Brand: Crave