Sliquid Silver Silicone Lubricant
Slide into slippery sensuality with Sliquid Silver Silicone Lubricant.
Please select a product option first
Goes Great With This
Description
Slide into slippery sensuality with Sliquid Silver Silicone Lubricant. Ultra concentrated and hypoallergenic, scent free Sliquid Silver is uniquely formulated to enhance the body's own natural lubrication, free of paraben, glycerin, propylene glycol and other harsh ingredients, resulting in a super smooth feel that is body safe, waterproof and 100% Vegan friendly. Latex and rubber safe, Sliquid silver is ideal for use with your favorite non-silicone toys, or for intimate massage. For slick sensation during your erotic adventures, Sliquid Silver is the gold standard.

Vegan, Kosher

Please Note:
We recommend using a water-based lubricant with silicone toys as some silicone lubricants may damage some silicone toys when used together. When using a silicone lubricant on a silicone toy, we suggest covering your toys with a condom in order to avoid incompatible combinations. You may also do a spot test by putting a drop of the silicone lubricant that you wish to use on the bottom of the base of your toy for at least 5 minutes. Wipe it off and check to see if there's a raised or sticky area, or other reaction. If so, cover your toy or use a different lubricant with it.
Good Vibrations will not accept returns or exchanges for defective silicone items that have been damaged by using them with a silicone lubricant.

2012 X-Biz Awards "Sex Lubricant Company of the Year"

Body-safe -- Sex toys are made from many different materials, with varying amounts of information available about them, and many have not been tested for safety. We always choose better-quality items, and we give special attention to those we know to be safer.
Animal product-free -- You might be surprised at how many products contain animal products. You can be sure that items that earn this leaf aren't made with any.
Natural ingredients -- More products, especially lubricants, are being made from natural ingredients. Less processing and fewer artificial materials means more ecorotic®.
Recyclable Packaging/Materials -- When the package and/or material for your toy can be recycled, you can reduce the impact of your purchase on the environment.
Made in the USA -- Many sex toy and products are produced overseas. Choosing one that's manufactured and assembled in the United States reduces shipping and has a lower carbon footprint.
Learn about our Ecorotic® Rating Criteria.


Brand: Sliquid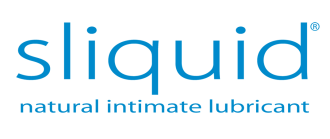 Product Details
Ingredients: Cyclopentasiloxane, Dimethicone, Dimethiconol
Warranty: 30 Days