Sliquid Organics Natural Lube
Formulated with women's bodies in mind, this fantastic water-based lube is all natural and perfect
Please select a product option first
Goes Great With This
Description
Formulated with women's bodies in mind, this fantastic water-based lube is all natural and perfect for folks with sensitivities. In addition to being both glycerin and paraben free, the use of plant cellulose as a thickening agent makes Sliquid Organics Natural last longer than most glycerin-free lubes. Great ingredients plus being easy to clean makes this lube a natural winner! 4oz, 8oz. Part of our Ecorotic® collection.
Winner of the AVN 'O' Awards 2009 for "Outstanding Lube, Lotion or Potion" recognizing excellence in lubricants, massage oils, and other necessities.

2012 X-Biz Awards "Sex Lubricant Company of the Year"

Body-safe -- Sex toys are made from many different materials, with varying amounts of information available about them, and many have not been tested for safety. We always choose better-quality items, and we give special attention to those we know to be safer.
Animal product-free -- You might be surprised at how many products contain animal products. You can be sure that items that earn this leaf aren't made with any.
Natural ingredients -- More products, especially lubricants, are being made from natural ingredients. Less processing and fewer artificial materials means more ecorotic®.
Recyclable Packaging/Materials -- When the package and/or material for your toy can be recycled, you can reduce the impact of your purchase on the environment.
Made in the USA -- Many sex toy and products are produced overseas. Choosing one that's manufactured and assembled in the United States reduces shipping and has a lower carbon footprint.
Learn about our Ecorotic® Rating Criteria.


Brand: Sliquid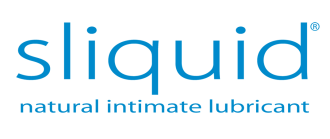 Product Details
Ingredients: Organic Aloe Barbadensis Decolorized Leaf Juice, Plant Cellulose (from Cotton), Natural Tocopherols (Vitamin E), Cyamopsis (Guar Conditioners), Organic Extracts of Hibiscus, Flax, Green Tea & Sunflower Seed, Potassium Sorbate, Citric Acid (Citrus Fruits)