Sliquid Satin Natural Water-Based Lubricant
Get more out of your personal lubricant with Sliquid Satin.
Please select a product option first
Goes Great With This
Description
Get more out of your personal lubricant with Sliquid Satin. More than a safer-sex necessity, this hypoallergenic, non-toxic lube is specially designed to relieve vaginal dryness caused by medication, menopause or other conditions. Formulated for daily use, Sliquid Satin uses Aloe and Carrageenan for a super smooth feel that is body safe and 100% Vegan friendly. Completely water-based, Sliquid Satin is safe for use with all your favorite toys. For intimate moisturizing and lubrication that provide long-lasting comfort during your intimate encounters and beyond, Sliquid Satin is a natural.

Kosher
Ingredients: Purified Water, Plant Cellulose (from Cotton), Carrageenan, Aloe Barbadensis (Aloe Vera), Natural Tocopherols (Vitamin E), Cyamopsis (Guar Conditioners), Potassium Sorbate, Citric Acid

2012 AVN "O" Awards' nominated "Outstanding Lubricant"!

Natural ingredients -- More products, especially lubricants, are being made from natural ingredients. Less processing and fewer artificial materials means more ecorotic®.
Recyclable Packaging/Materials -- When the package and/or material for your toy can be recycled, you can reduce the impact of your purchase on the environment.
Made in the USA -- Many sex toy and products are produced overseas. Choosing one that's manufactured and assembled in the United States reduces shipping and has a lower carbon footprint.
Learn about our Ecorotic® Rating Criteria.


Brand: Sliquid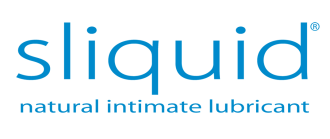 Product Details
Ingredients: purified water, plant cellulose (from cotton) carageenan, aloe barbadensis, natural tocopherols, cyamopsis (guar conditioners) potassium sorbate, citric acid