Eroscillator Top 2 Deluxe Vibrator
Eroscillator Top 2 Deluxe Vibrator
Swiss designed and university tested, this isn't your typical sex toy. Instead of vibrating, it
Please select a product option first
We're sorry. This product is not available at this time.
Description
The Science of pleasure! Swiss designed and university tested, this isn't your typical sex toy. Instead of vibrating, it oscillates, moving side to side (similar to an electric toothbrush), with 3600 movements per minute. Many find this unique motion, as well as the multiple power settings, ideal for stimulating the labia and clitoris. The Eroscillator has been endorsed by sex therapists and promoted by some as the best device ever made for stimulation of the labia and clitoris, and offers women exciting immensely satisfying orgasms with little or no effort. This model has 30% more power than the original and comes with five different snap on attachments that are directly connected to the oscillating engine. Whisper quiet, the Eroscillator never weakens while in use thanks to its battery-less design. Comes with a storage pouch.
Eroscillator Top 2 Deluxe Vibrator
Copper Hard Plastic with recyclable TPR attachments
8" long, with attachments varying from 2" to 3" inches in length
Volume: 2; Intensity: 4
DVD, Narrated by Dr. Ruth Westheimer
The electric vibrators we carry are manufactured for North American electricity standards (120 V, 60 Hz) and may not be compatible with electricity standards for other regions. Even with voltage adapters, some electric toys may still not function and become damaged. We recommend choosing a battery vibrator instead; many models come in similar sizes, shapes and strengths. Using an electric toy in a region with different electricity standards is at your own risk. Unfortunately, Good Vibrations cannot take returns on products used in this way.
Body-safe -- Sex toys are made from many different materials, with varying amounts of information available about them, and many have not been tested for safety. We always choose better-quality items, and we give special attention to those we know to be safer.
Learn about our Ecorotic® Rating Criteria.


Quotes From Eroscillator Fans
"It's quick, convenient and it makes me have an orgasm every time."
"My husband and I really enjoy the Eroscillator. We use it on each other for foreplay. He likes it on his nipples and I particularly like using it to keep myself aroused - when he's resting between orgasms."
"I take my time when I use my Eroscillator. I change speeds and positions depending on my mood. I particularly like the idea that it's so quiet. It doesn't get in the way of my thoughts."
"All I have to say is this product definitely lives up to the hype!"
"Thank you for such a wonderful product! It has taken our sex life to a whole new level. Every woman should own one, maybe two."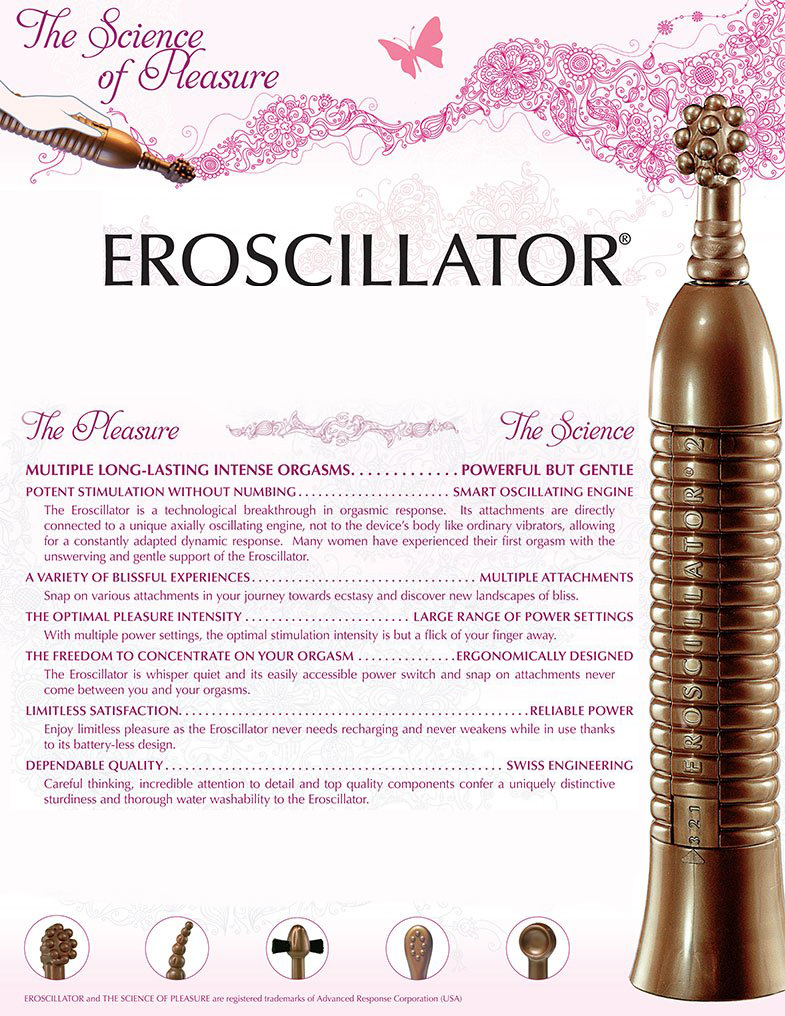 Brand: Eroscillator
Product Details
Warranty: 1 Year