We are living in uncertain and often scary times—information about the effects of the COVID-19 pandemic continues to come our way from around the world and within our own communities. We're still not sure how long our lives will be impacted by the coronavirus, but one thing is certain--we are all facing this situation together. Good Vibrations stores are open for safe and protected business! Our highest priority is the safety of our customers, SESAs and other team members, and communities.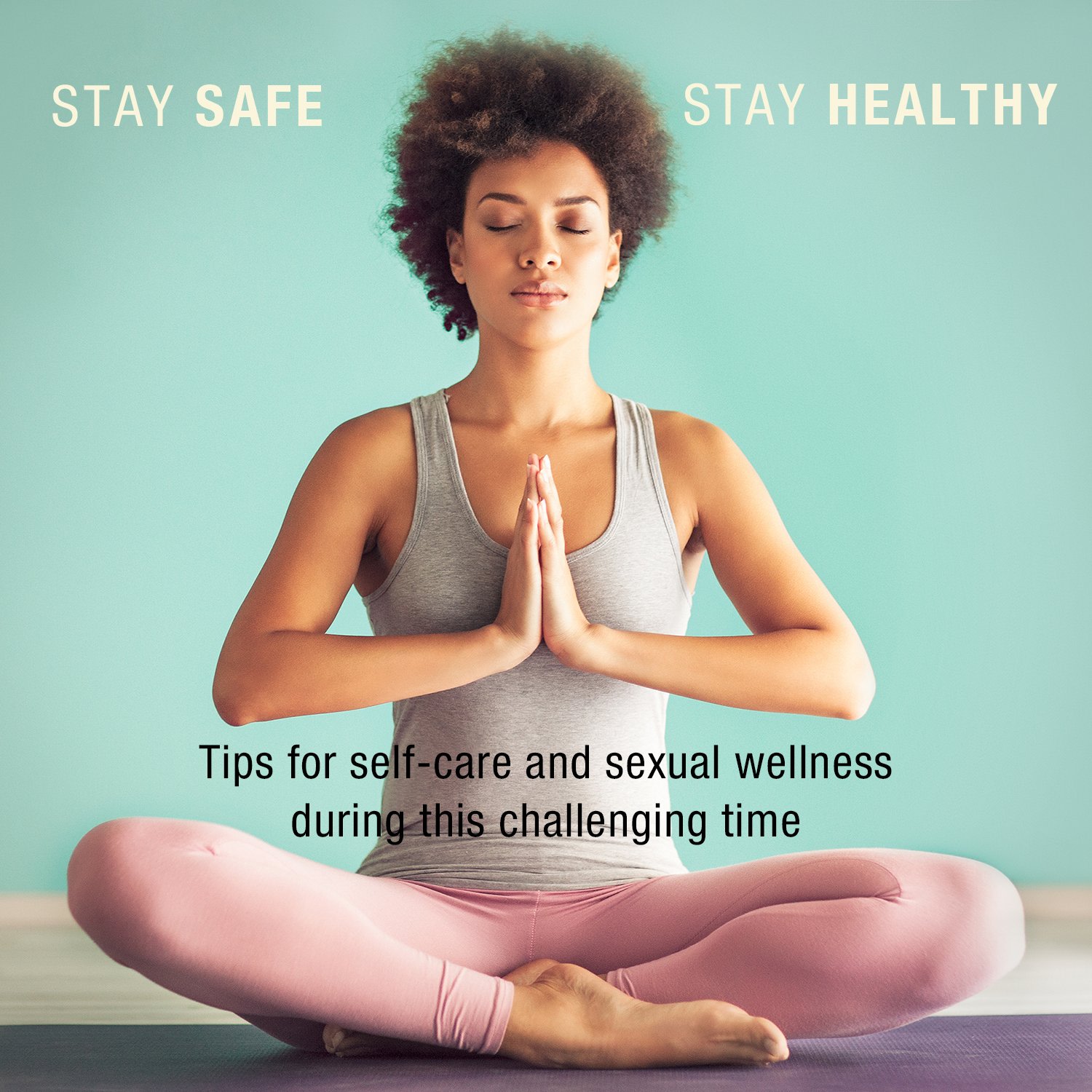 You've probably seen countless safety tips going around, but they don't all talk about sex. We want to add a few more that can make a difference as you make decisions about touch, erotic experiences, dating, and other important elements of your life.
Whether your interactions happen in everyday ways or much more personal contexts, you'll need to get informed, make decisions for yourself and those around you, and communicate: "Hey, can I come quarantine with you?" "Depends--what's your exposure level? / Have you felt sick? / Only if you wear gloves and stay 6 feet away…" and so on. Asking other people questions to get the info you need to keep your exposure as low as possible is not rude or "too much": It's the way negotiation happens! That's true in and out of bed—but these days, TALK before you get anywhere near that close to each other.
Many people are repurposing the skills they learned in the past to help them negotiate safer sex practices—they are all still relevant for sex, of course, but also help us decide how to interact with those we come into contact with in all kinds of contexts. The skills, if not all the details, are the same! Checking in with your own needs and setting boundaries to ensure that you are safe and comfortable are essential skills when it comes to our sex lives. Even if this process is a new one for you, take some time to think about the way that you navigate these conversations. In many cases you can simply switch out the topic and the same conversation can fit many experiences: "Hey, do you want to have sex?" "Depends--when were you last tested? / Only if we use protection and have a safeword…" etc.
Learning to get comfortable with communicating like this can be extremely useful now—it might save your life!—but it will be a skill you can practice now and integrate into your conversations and boundary setting post-covid as well. These are life skills—in many senses of the term!
SOCIAL DISTANCING: Social distancing seeks to stop or slow the spread of infectious diseases by limiting large groups of people coming together. As we've seen, this can involve closing non-essential businesses, canceling events, and limiting the number of people in a space. It refers to keeping more space in between people in general, too. To end the spread of COVID-19, social distancing often means keeping in-person interaction limited to household members only.
! While COVID-19 is not medically defined as a sexually transmitted disease, it is actively transmitted through mucus and saliva, and there have been reports of the virus appearing in fecal matter as well--so acts such as kissing or (possibly) rimming can cause spread of the disease. Beyond this, being in close contact with a partner can introduce risk as well, the coronavirus is a respiratory infection and viral particles can be projected through sneezing, coughing, and even talking and singing. And, we assume, shouting and moaning!
Even if someone is not showing any symptoms of COVID-19, they could still potentially be a carrier of the virus.
Practicing social distancing isn't just about protecting ourselves and our partners, but also every person we may come in contact with, and every person those people may come in contact with--and on and on.
And please tell us you are stocked up on masks! C'mon, you know it's pretty kinky to make out with masks on.
If you still want to have sex during COVID-19 with a partner who is not part of your household, there are plenty of creative ways to do it:
DO IT YOURSELF
Your safest sex partner is yourself. Wash your hands, wash your toys, and get to it without the risk of contagious disease. If you want to get a partner involved, consider a video chat, or keeping a safe distance as you both play with yourselves and watch. See our most popular toys.
GO DIGITAL
App-controlled toys are a great option for long-distance play. As long as you've got an internet connection and a charged toy, you can still play with eachother from whatever distance away you are. Check out some of our fave App-controlled toys.
MAKE THE CALL
Phone sex is in. Whether you're sharing fantasies or what will happen when you next meet, talking dirty to one another as you touch yourselves, or having a risqué book club where you read each other erotica–using our voices (or texting!) to play with a partner is a great way to keep things hot. You may even learn more about what turns each other on!
Making sure that we practice healthy habits like frequent hand-washing, communication, and listening to our bodies when we are feeling unwell is crucial now--but is something we should always be aware of and exercising.
Good Vibrations shares the concerns that you have for the many individuals who have been and may be affected by this illness, and we're truly thankful for the heroic healthcare workers who are on the front lines working to save lives and fight the virus.
We at Good Vibrations will continue to safely and effectively serve our customers. We offer curbside pick-up, mail order, and careful cleaning and socially distanced and masked service at our stores. We continually monitor new information and ensure best practices will continue to be followed. You can connect with our customer service team or on social media @goodvibestoys ( twitter and instagram).
We want to thank you for your patience and support during these challenging times.