Good Vibrations Ecorotic® Green Sex Toys
What is ecorotic®?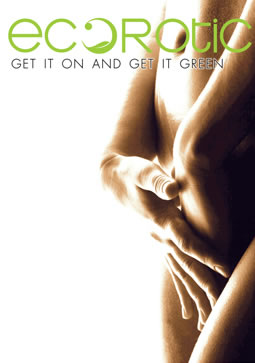 Many of our customers want to do their best to protect the environment, and so do we. In 2001, Good Vibrations was the first company in the United States to research the issue of items containing phthalates (the chemical softeners that raised concerns about toxicity in plastics) and look for safer alternatives. In 2007, we became the first multi-channel retail company to discontinue these products and we encouraged our manufacturers to do the same. We are proud of our role as leaders in helping our industry begin to question and change its practices regarding materials, packaging, and other issues impacting sustainability.
The adult industry hasn't always focused on green issues, but times are changing, and we now have more access to better products than ever before. Now, when it comes to sexual pleasure and health, there are many ways products that feel good to you can also be choices you can feel good about. We consider several different factors when we choose a product for our ecorotic® collection. While opinions may vary regarding a given item's eco-friendliness, and most consumer products (not just adult ones) affect the environment more than we might wish, we truly think our ecorotic® items take a step in the right direction. Some not only make a difference but are standard-setting for the adult toy marketplace.
Many of the Lubricants we offer are made from natural and/or organic ingredients. They are produced in the United States, rather than overseas, which reduces their carbon footprints (the resources used to create a product and bring it to market). Our own Please Lubricant is made right here in the San Francisco Bay Area.
We've added Rechargeable Battery Vibrators to the ecorotic® collection because they don't use disposable batteries, plus they are more durable and long-lasting - all of which reduces waste. The same can be said of popular "old-school" corded electric vibrators, which tend to last longer than battery vibes, often by a factor of many years. The longer a toy stays in use and out of the trash, the more ecorotic® it is!
Other items are chosen for the ecorotic® collection based on the long-lasting materials used to make them, such as glass, sustainably harvested wood, metal, or silicone products. Some other materials will break down over time and need to be replaced, while these (with proper care) can last a lifetime. They are less likely to end up in landfill, and many of these items are themselves recyclable. In addition to being more durable, high-grade, non-permeable materials are much safer for your body and more natural than most plastics and composites.
We're sometimes asked about recyclable/biodegradable products. At this time, there are no known facilities that recycle sex toys, both because of the materials as well as concerns about worker safety and sexually transmitted infections. If this sort of business were to launch in the United States, we would certainly make our customers aware of it, and we strongly encourage recyclers to develop the technology needed to make this possible. And while a biodegradable sex toy might sound like a good idea, we're concerned it could also break down in the body and cause irritation or infection.
Being made of materials that have been tested for safety can also warrant a product's inclusion on our ecorotic® list. None of our toys contain phthalates, a plastic softener which have been linked to cancer and damaging sperm. As we learn information about other materials, we adapt our selection to incorporate new findings.
In addition to materials, we consider other factors when thinking about ecorotic® products. Companies who manufacture locally and therefore have a minimal carbon footprint, those who use minimal and/or recyclable packaging, and companies that work to keep their operations as green as possible all can be included on this list as their efforts are helping our industry move towards sustainability.
Ecorotic® Ratings

Body-safe - Sex toys are made from many different materials, with varying amounts of information available about them, and many have not been tested for safety. We always choose better-quality items, and we give special attention to those we know to be safer.
Animal product-free - You might be surprised at how many products contain animal products. You can be sure that items that earn this leaf aren't made with any.
Rechargeable - Toys that can be recharged reduce the number of batteries that end up in landfill. We also encourage you to use rechargeable batteries if your favorite vibrator operates using disposables.
Natural ingredients - More products, especially lubricants, are being made from natural ingredients. Less processing and fewer artificial materials means more ecorotic®.
Recyclable Packaging/Materials - When the package and/or material for your toy can be recycled, you can reduce the impact of your purchase on the environment.
Made in the USA - Many sex toy and products are produced overseas. Choosing one that's manufactured and assembled in the United States reduces shipping and has a lower carbon footprint.


While we wish that all sex toys were environmentally friendly, not all of our products receive an ecorotic® rating. We're committed to carrying a range of quality toys to serve the needs of our diverse customer base. We believe that as awareness grows, more manufacturers will go ecorotic®, making ever more earth- and body-friendly options available. In the meantime, we believe in giving you as many choices as possible to experience the pleasure that is your birthright.
When we buy any kind of product, we are having some sort of impact on the earth. We can all practice harm reduction in our shopping choices just as we can in our sexual decision-making, selecting better-quality and greener items whenever they are available. By doing so, manufacturers get the message that Good Vibrations and our customers care not only about quality, health and pleasure, but also about the planet.