Good Vibrations Customer Service
This section contains information including questions about placing your order, contacting Live Help with our Sex Educator Sales Associates, some Frequently Asked Questions, and our extensive product information guides complete with cleaning care and instruction for your exciting new purchase.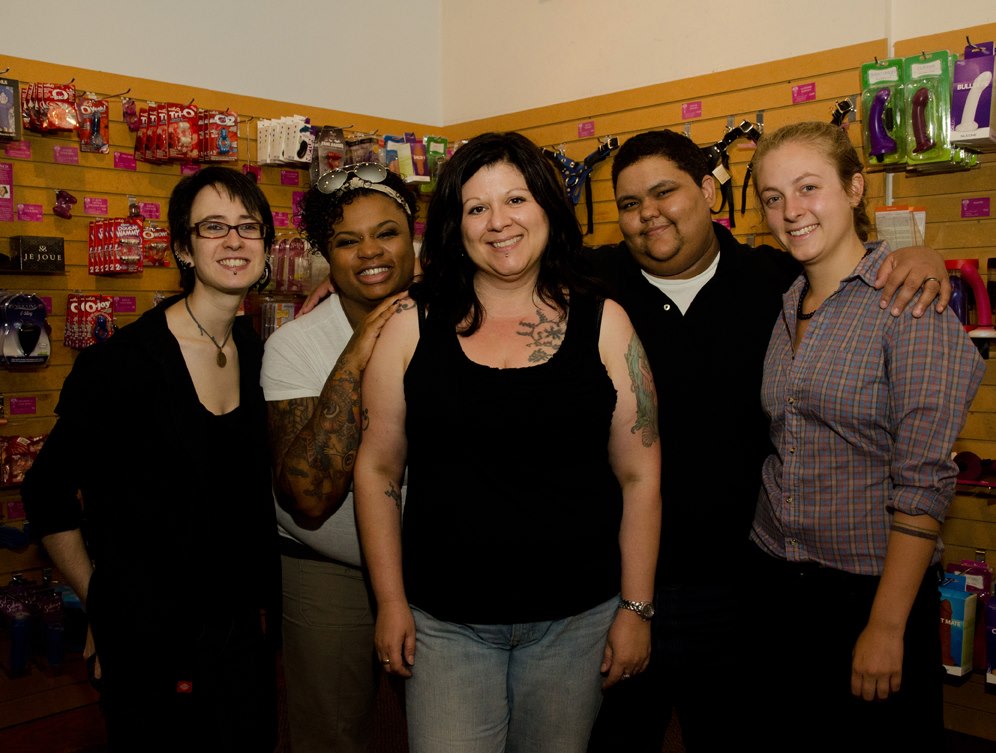 Customer Service
Good Vibrations Customer Service Department
2504 San Pablo Avenue
Berkeley, CA 94702
1(800)BUY-VIBE or 1(800)289-8423
8 am to 5 pm, Monday – Friday, Pacific Time
customerservice@goodvibes.com
Our Customer Service Center will additionally be open on Sunday February 7th, 2016 from Noon - 5pm Pacific Time.
Sex Educator-Sales Associates (SESAs)
In 1993, Good Vibrations coined the phrase "Sex Educator-Sales Associate" as the job title for our front-line staff. We have always understood that education needs to come before selling anything because that's the best way to make sure that our customers can find and choose the products that will best meet their needs. We have inspired many other companies with our model and some of them have even used the same job title for their staff. We're proud to be leaders in the industry and to know that the value of our work is recognized by our peers.
We take staff education very seriously; a knowledgeable staff provides quality customer service and accurate information. Our SESAs understand and can educate our customers about the finer details of our products, human sexuality and anatomy, as well as useful how-to tips and techniques that make sex more pleasurable.
Because they are our front-line representatives of sex-positivity, all SESAs are required to participate in an extensive training program taught by staff PhDs. This training is supplemented by readings and ongoing continuing education.
Customer Reviews
Good Vibrations Customer Service
"I just want to say Thank You for running such a great operation! Your attention to detail when it comes to stocking the best new products is unmatched and your customer service and community involvement are incredible. As expected, our recent orders arrived quickly, un-damaged, and we couldn't be happier with our selections. Thanks for all you do, keep up the good work!"
Good Vibrations Valencia Street
"If you need a guide through the exciting world of sex in the Mission, this is your place and this is your gal. Leave inhibitions in the door and visit this place when you have time to explore - you will have a blast!" - Terri N.
Good Vibrations Polk Street
"My experience at the Polk St location was awesome. All the associates were really helpful & knew what they were talking about (& told me when they didn't--just as helpful!). Another associate helping a -somewhat uncomfortable- middle aged tourist couple purchase a masturbation sleeve had them both laughing by the time they checked out. Definitely recommend this location--well stocked, great customer service, & I got a reeeeally good price on my LELO vibe." - Emma B.
Good Vibrations Downtown SF
"I came into this store because I happened to walk by. The employees are very kind and go out of their way to make you feel comfortable and not judged or embarrassed. The girl that helped me was very patient and demonstrated a lot of different vibrators and explained them all for me. A great place to start exploring!" - Alexandra H.
Good Vibrations Kearny Street
"Amazing store in downtown SF with an awesome variety of lingerie, toys and more. Store is beautiful and staff is super friendly and helpful. I would highly recommend checking this store out :)" - Laura H.
Good Vibrations Oakland,
"The store is big and bright; the people working there are super nice, they are a good resource for books about sexuality and massage oil as well as quality sex toys. GV has a long history in the Bay Area for being a woman-owned, liberating store for all people. Happy they have opened a shop in Oakland, right across from the Trader Joe's!" - Johnna A.
Good Vibrations Berkeley, CA
"I have never been in a classier sex store than this one. Since I moved here, I have only known these types of stores to be kind of sleazy end porn shops....but this completely changed my mind. It's literally an adult candy store for fun ways to spice up your sex life with your significant other or yourself. An encouragement of all ends of the spectrum of interesting ways to stimulate your senses, and practice safe sex." - Jessica R.
Good Vibrations Palo Alto
"A few weeks ago, I received exceptional customer service at the Palo Alto location from the Store Manager. She went above and beyond to help me make an informed decision, feel trust in my purchase, and have an overall delightful customer experience. She has inspired great loyalty in me to return as a customer for any future wants/needs." - Tiffany F.

"Amazing staff, and great products. I love that it isn't dark and sleezy. It feels like a posh store and looks like one too. I am happy to make the almost 2 hour drive to Palo Alto just to visit this shop at this location." - Jacqueline S.
Good Vibrations Brookline, MA
"GoodVibes carries a large selection of sex products. The sales people are friendly & helpful. In Brookline, there is a lovely museum of early vibrators. The space is beautifully designed and the products elegantly displayed. Everyone who loves sex, in my view, should visit the store." - Mika C.