Dr. Carol Queen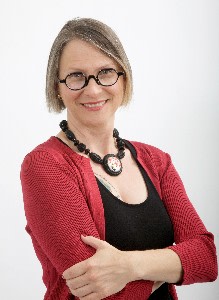 Greetings!
I'm Dr. Carol Queen and I'd like to personally thank you for shopping at Good Vibrations. Please feel free to browse the wealth of informational material here at GoodVibes.com, from our How-To Articles to our staff blogs on the Good Vibrations Online Magazine. Everything on our site is meant to inform and inspire you, from sex education to staff-selected, high-quality products. And, if you're in the San Francisco or Boston areas, join us at one of our five stores for shopping and special events. Check out the "Stores and Events" section to see what's happening now.
Welcome to the world of pleasure you can access by exploring Good Vibes!
About Dr. Carol Queen Ph.D
Award-winning author, activist and sex educator with a Ph.D. in Human Sexuality, Carol Queen has been a part of Good Vibrations since 1990. She currently serves as both Staff Sexologist and Chief Cultural Officer. As a presenter for "Ask the Doctors," one of Good Vibes' free educational programs, Queen engages customers with in-store question and answer events. She represents the company to the press and public, taking to the stage to host many of GV's special events like the Independent Erotic Film Festival. In addition to her workshops and public appearances, Queen curates Good Vibrations' Antique Vibrator Museum.
In 1975, Carol Queen co-founded GAYouth, one of the first LGBT youth organizations in America. In 2000, she became the Founding Director of the Center for Sex & Culture, a non-profit organization that provides sex-positive educational classes, as well as a sexuality library and archive accessible to the public. In between she earned her doctorate (via a study of erotic exhibitionism) and explored many elements of sexuality and sexual culture.
Carol Queen's first book Exhibitionism for the Shy explores erotic self esteem. Originally published in 1995, it has been reissued. Her erotic novel The Leather Daddy and the Femme won the 1999 Firecracker Alternative Book Award, and her collection of personal essays, Real Live Nude Girl: Chronicles of Sex-Positive Culture, is read in university classes across the country. She is an accomplished short story author and editor -- she is the series editor for Five Minute Erotica and has appeared in many anthologies. PoMoSexuals, which she co-edited, won the 1998 Lambda Literary Award.
She has appeared in several sex ed films, including Carol Queen's Great Vibrations: An Explicit Consumer Tour of Vibrators and Bend Over Boyfriend: An Adventurous Couple's Guide to Male Anal Pleasure. She also wrote and starred in the sex ed movie Gush: The Official Guide to the G-Spot and Female Ejaculation, which is nominated for a 2012 Feminist Porn Award.
Carol Queen has addressed such professional and scholarly gatherings as the International Condom Conference, International Conference on Prostitution, International Conference on Pornography and the Society for the Scientific Study of Sexuality. She often lectures at colleges and universities, and was honored with an invitation to debate the Question of Promiscuity (Virtue or Vice?) at England's Oxford Union, the debating group at Oxford University.
For over 25 years, Carol Queen has been active and speaking publicly on behalf of progressive sex education, sexual enhancement and sexual minority issues.
Staff Sexologist/Historian, Curator of Antique Vibrator Museum
Dr. Carol Queen
voice: (510) 380-8813 X215
fax: (510) 858-5864
Carolq@goodvibes.com
Follow @CarolQueen on Twitter