About Good Vibrations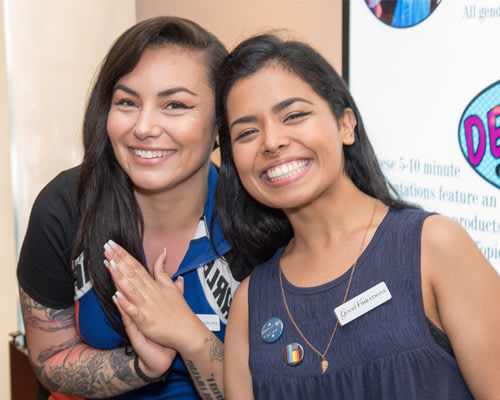 Good Vibrations is the premiere sex-positive sexual health and wellness toy retailer in the US. Our customers trust us to provide education, high quality products, and information promoting sexual health, pleasure, and empowerment. We are proud of the model we innovated: creating a safe, welcoming, and non-judgmental environment where customers can shop for sex toys and books, as well as attend workshops and inspiring events.
Good Vibrations History
| | |
| --- | --- |
| | In 1977 sex educator Joani Blank (1937-2016) founded the original Good Vibrations store in San Francisco. She pioneered an alternative to conventional adult stores by focusing on sex education and women's pleasure. Quickly it became clear that men appreciated this approach as well, and over the years our emphasis on women has been maintained and expanded to include people across the gender spectrum. |
| | |
| --- | --- |
| Joani sold the company to its employees in 1992, making Good Vibrations a worker-owned cooperative. We developed this alternative business model for 15 years as the marketplace became more competitive. Good Vibrations ceased being a co-op in 2006 to continue to grow and share our mission of sex- positivity. | |
Though our business has grown over the years, our mission and values have never changed. We have led the way on many fronts: We helped start other 'sister' businesses in the 1990's. In 2001 we were the first sex toy company to refuse to sell toys with phthalates; we were the galvanizing force behind the pressure on manufacturers to adopt body-safe materials. We increased our community sponsorship of local and national non-profits through our GiVe Program, supporting organizations that include Stop AIDS Project and Planned Parenthood. We've developed dozens of private labeled products based on customer feedback and requests.
| | |
| --- | --- |
| | We have also responded to and influenced the culture. We created International Masturbation Month as a sex-positive response to the firing of then-Surgeon General Dr. Joycelyn Elders. We introduced the Summer of Consent, a call for writing, teaching, conversation and commentary about the role of enthusiastic, informed consent in our sex lives. |
| | |
| --- | --- |
| We are guided by a diverse management team; many of the leaders have worked with the company for more than a decade. Good Vibrations is proud to be devoted to education, quality, sustainability and pleasure. | |
---
Throughout our history, Good Vibrations has always remained devoted to our mission: