Why shop at Good Vibrations?
When you shop at Good Vibrations, you get more than a great selection of sex toys. We've been the gold standard for sex-positive information, high-quality products, and female- and couple-friendly shopping since 1977, so you can be sure that you're getting the best.
The Best Sex Information There Is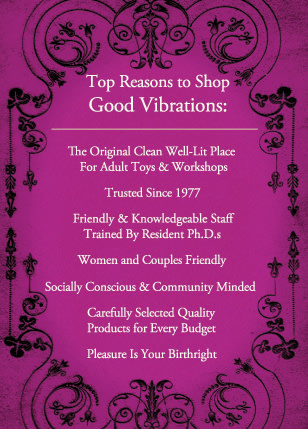 If you need a little help figuring out how the toys work or how to pick the best item for you, our top-notch "How To…" pages have the info you need. Whether you're curious about G-spot play, which lubricant to try, how to clean your sex toys, or anything else, we've got plenty of excellent information that'll make it easy to tackle sex toy choice, pleasurable use, and care. We have our expert sexologist on staff, Dr. Carol Queen, so you can be sure that you're getting the best help there is. We know that accurate, non-judgmental information is an important part of having a great sex life and our experts are always available to customers and staff alike. We welcome all of our customers' questions and strive to provide the most accurate and up-to-date information available.
When you come into our stores, call us on the phone, or get in touch via Live Chat, our Sex Educator-Sales Associates (SESAs) will answer your questions about any of our toys, books or videos. They all complete an extensive training and can help you find the products you're looking for. Our SESAs set the standard in our industry, and our model of customer service and sex education has been copied by many other companies. And that's the sincerest form of flattery!
Spreading the Word About Sex-Positivity
Our sex education doesn't just happen at the counter. Our in-store workshop program offers more sex ed classes than anyone else! If you want to learn how to flirt, get some new oral sex skills, or explore alternative relationships, we have you covered. We send our off-site sex educators to college classes, student groups, non-profit organizations, and bachelorette parties to spread the word about sex-positivity, safer sex, and sexual pleasure. And we support other organizations through our donations program and GiVe, our sponsorship program. For over 30 years we've partnered with hundreds of local and national non-profit organizations to help spread sex-positivity and sexual health.
We Honor Sexual Diversity
At Good Vibrations, we welcome customers and staff of all sexual orientations, gender expressions, and relationship structures. Our commitment to inclusivity and celebrating diversity is deeply rooted in our company culture and our policies. We also know that diversity is more than just sex and gender. We welcome communities of color and people of all sizes and physical abilities, ages (as long as they're over 18), and cultures.
We know that love and pleasure come in many forms and we work to include and invite as many communities of erotic affiliation as possible. When we don't offer a product for a particular community, we're happy to suggest other resources because we want you to find the pleasure that is your birthright!
We Choose Our Products Carefully
When it comes to product selection, nobody has more experience than we do. Our buyers carefully select every toy we carry and many manufacturers have consulted with us on product designs because they know our reputation for expertise and that we listen to our customers. Some of the most innovative toys on the market are the result of our input. We've also designed and manufactured our own toys when we couldn't find anyone making them. Plus, your feedback is important to us, so don't hesitate to write product reviews on our website or to get in touch with us.
We want all of our customers to have accurate information about our products, including any disadvantages or limits they may have. We know that you deserve to have all of the relevant information about our selection so that you can pick the toys that will meet your needs. We also keep a close eye on breaking news that affects what we sell. When information about phthalates in sex toys first became known, we were the first company to stop carrying items with these chemicals because your well-being is important to us. When manufacturers started making more eco-friendly toys and other products, we created our Ecorotic® Green Sex Toy collection. And we were one of the first toy companies to offer a Gender Expression & Play section.
Sexual Pleasure Is Your Birthright
We recognize that sexuality touches on every aspect of our lives and that many people face challenges around positive sexual expression. Our goal is to help everyone we come into contact with to discover ways to experience sexual pleasure, health, and well-being. Since sexual diversity is a core component of the human experience and each person's sexuality will change over the lifespan, we welcome all forms of consensual sexual expression, desire, and fantasy.
So when you shop with us, you're getting more than amazing and useful toys, books, and videos. You're getting over 30 years of sex-positive leadership, more information and support than you'll get anywhere else, and the best sex toys available!