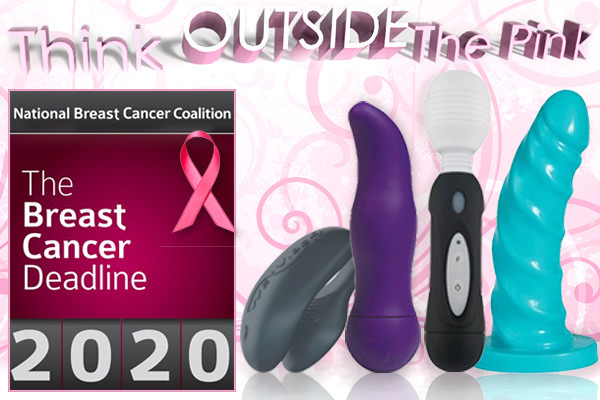 Good Vibrations carries many lovely pink vibrators, but when October, Breast Cancer Awareness Month, rolls around, and all kinds of companies feature pink things to buy, we join with the National Breast Cancer Coalition to Think Outside the Pink! So choose an item of any color that pleases you, and be sure to use our easy link below to donate through our GiVe program and support NBCC.

Anyone can get breast cancer--women, men, trans folk--and besides maintaining a focus on your own health and any family history of cancer, you can be active by raising awareness and helping with donations. Breast cancer is the second leading cause of cancer deaths among women in the US; this year, roughly 40,000 women (and over 400 men) will die for the disease. Many organizations raise funds to end breast confer, but as NBCC points out, we do not really need more pink products. We need a vaccine and a cure! Visit the NBCC website (www.breastcancerdeadline2020.org/) to learn much more about breast cancer and what you can do about it. Good Vibrations stands with the National Breast Cancer Coalition and the important work they do to end this deadly disease.
From October 1st through 31st, 2014, Good Vibrations' customers can show their support for NBCC by making a financial gift to the National Breast Cancer Coalition where 100% of their donation goes to NBCC. Learn more about our donations program on the GiVe Partner page.