SESA Certification at Good Vibrations
When you contact our call center or come into one of our stores and talk to our staff, you're talking to a Sex Educator/Sales Associate. If you thought they were just cashiers or an answering service -- think again! Each and every one of our staff who meets the public in any way completes a rigorous and ongoing training process to earn the "SESA" title.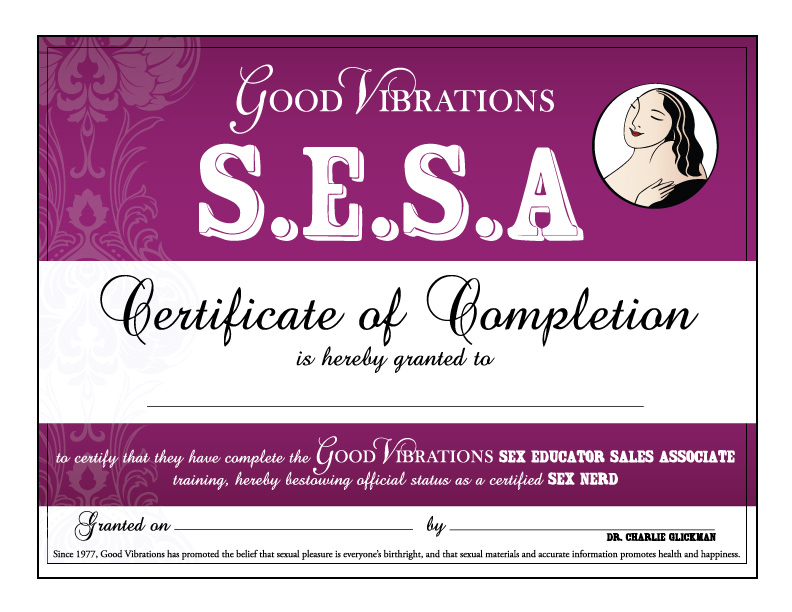 Working at Good Vibrations requires an open, non-judgmental approach to sex, and we take education and providing a safe space very seriously. Since communication, boundaries, sexual health, practices, anatomy, toys and keeping up with the latest information are all essential, our Education Department developed a comprehensive, ongoing training and education program.
The Education Department provides all SESAs-in-training an extensive training program taught by a staff sexologist and sex experts. Our SESA Training sessions cover all of the basic information we use to help our customers find the products they're looking for, as well as the useful how-to tips and techniques that make sex more pleasurable. They include the following topics:
Sexual anatomy and pleasure
Vibrators
Dildos and harnesses
Cock and ball toys
Anal sex and anal toys
S/M
Latex and lubricants
Videos
Books
Sex-positive attitude
The last topic, "sex-positive attitude," is a growth-oriented class. Together, SESAs investigate negative cultural and personal notions about sex, and learn how to model behavior that positively reinforces pleasure as a birthright. SESAs also experience an in-depth exploration of diversity issues. This phase of the training touches on the many ways that individual difference and life experience informs each person's communication, interactions, and perceptions, as well as their sexuality. The goal of this section is to foster sensitivity around race, class, age, gender, sexuality, ability and all other kinds of differences, both in our interactions with co-workers and with customers. Upon completion of all of the trainings, new SESAs receive a certificate showing that they're ready to go!
In addition to the trainings, we offer our SESAs a comprehensive reading list and ongoing Continuing Education webinars that cover topics such as sex and aging, pregnancy, pelvic pain conditions, and other topics that affect sexual pleasure.
The Education Department extends all of the classes, workshops and trainings free to any staff member, but for SESAs and all Education Department staff they are required. Some of our administrative staff enjoy the training so much that they get inspired to take shifts in the stores just to use their knowledge, and to experience the rewards of working with the public in such a unique capacity. After training, most staff take it on themselves to increase their knowledge bases by reading new books and watching new videos as they arrive. In addition, working together, all staff constantly share experience and knowledge with each other, so new ideas and information can be shared.
We know that nobody is born knowing anything about sex and we all have to learn it somewhere. We love discovering new information and sharing it with each other and with our customers!