2013 Archive
Current Press Archive: 2017 |2016 |2015 | 2014 | 2013 | 2012 | 2011 | 2010 | 2009 | 2008 | 2007
---
Edgeonthenet.com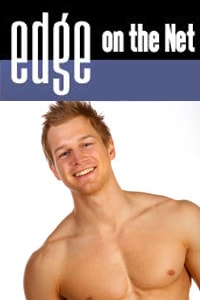 Male Sex Toys Show Sales Increase
Date: October 2, 2013
Author: David-Elijah Nahmod
Title: Male Sex Toys Show Sales Increase
Summary: Carol Queen of San Francisco based Good Vibrations chatted with SFGN on the new phenomenon of pleasure enhancers marketed towards men.
"Carol Queen of San Francisco based Good Vibrations chatted with SFGN on the new phenomenon of pleasure enhancers marketed towards men.

Carol Queen said the change began awhile ago. "Men have been a significant part of our customer base since the 1980s," she said. "But it's a gradual rise, nothing sudden at all. In San Francisco it's always been interesting to reach out to the gay male community, and many guys who might otherwise be interested in the products see us as too female-coded a place, even now. But we've been mindfully carrying toys for men since the 80s, and if more gay men knew how great silicone dildos were, more guys would have them!"
---
Woman's Day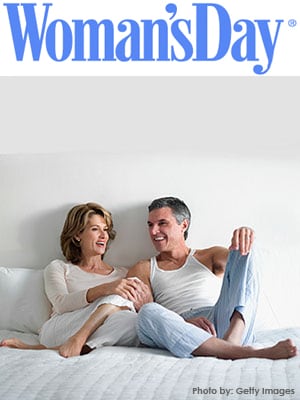 8 Sex Conversations Every Couple Must Have
Date: September, 2013
Author: Kimberly Dawn Neuman
Title: 8 Sex Conversations Every Couple Must Have
Summary: Woman's Day Magazine explores the most important themes and methods for communication between couples. Good Vibrations Staff Sexologist Dr. Carol Queen shares suggestions for how to get the ball rolling for optimal satisfaction.
"It goes without saying that you'd like to enjoy making love to your partner; yet, nearly every other aspect of sex calls for a chat. Here's why: Couples who discuss tricky topics effectively are 10 times more likely to have a happy relationship than those who ignore difficult subjects…. Read on for eight issues to broach and how to approach them so you can move on to more interesting things. 1. Limits. Unless you want to end up in a "50 Shades of OMG what are you doing?" situation, discuss boundaries. "While it's possible to have a good experience trying something new with no communication, it's also possible to have a big fail," says Carol Queen, PhD, Staff Sexologist for Good Vibrations, an online sex toy shop. Determine what kinds of play you're OK with before someone pulls out handcuffs. Also, choose a safe word, one unrelated to sex either of you can say to halt what's happening. To start the limits conversation, exchange one idea each about something you'd like to experience. "Worst case: Your move stays a fantasy. Best case: There are two new options on your sexual menu," says Dr. Queen."
---
DesignTaxi.com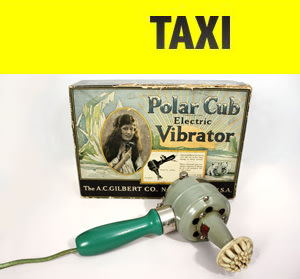 A Museum That Showcases Vintage Vibrators And Sex Toys
Date: September 20, 2013
Author: Thia Shi Min
Title: A Museum That Showcases Vintage Vibrators And Sex Toys
Summary: Design Taxi features the historic marvels from Good Vibrations' Antique Vibrator Museum.
"For those who have wondered about the history of vibrators and sex toys, The Good Vibrations Antique Vibrator Museum in San Francisco will answer your questions. This 300-square-foot museum showcases toys which were available from the Victorian era to the '70s, and were collected by the Good Vibrations sex store. Visitors will notice that many of these toys look like sewing machines, fans and tea kettles so that they would blend into the home, while other nerds will like the fun facts and commentary accompanying the exhibits."
---
SFRacked.com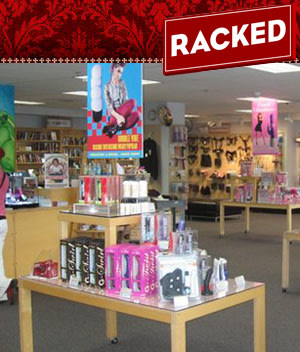 Good Vibrations is Bringing Its Sexy Toys to Palo Alto
Date: September 5, 2013
Author: Kristen Philipkoski
Title: Good Vibrations is Bringing Its Sexy Toys to Palo Alto
Summary: SF Racked shares the good news that Good Vibrations will be opening its seventh store in downtown Palo Alto.
"Good Vibrations, the "sex-positive" sex toy mini retail chain based out of San Francisco, is opening its seventh store on University Avenue in Palo Alto in early October. The company has been in business since 1977, and has stores in San Francisco, Berkeley, Oakland and Massachusetts. This is its first foray into Silicon Valley. Executive vice president Jackie Strano said in a press release that many of Good Vibes' customers have hailed from the South Bay, so it's about time they had their own outpost."
---
Spirituality & Health Magazine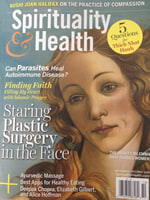 An Erotic Ethos
Date: September/October, 2013
Author: Rakesh Sharma
Title: Toolbox: An Erotic Ethos
Summary: Spirituality & Health Magazine rounds up a collection of sensual products to support a healthy connection with one's sensuality.
"Connect with your sensuality through partnered and self-directed exploration. Please Lubricant: the water-based lubricants created by Please include a liquid, a gel, and a cream (goodvibes.com). The Ambiance Massage Candle melts to a comfortably warm temperature (goodvibes.com). Use body heat to alchemize the Rub Me Massage Bar from solid to liquid (goodvibes.com)."
---
Forbes Magazine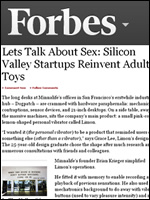 Lets Talk About Sex: Silicon Valley Startups Reinvent Adult Toys
Date: July 31st, 2013
Author: Rakesh Sharma
Title: Lets Talk About Sex: Silicon Valley Startups Reinvent Adult Toys
Summary: Forbes looks at how Silicon Valley technology and aesthetics are transforming adult toys. Good Vibrations Executive Vice President Jackie Strano lends some perspective on the question of luxury vibrator sales.
"With average prices that are upwards of $100, the experience is not cheap. Topolovac from Crave takes a similar tack, likening Crave's products to accessible luxury items such as iPods. He is confident that women would be willing to shell out upwards of $150 for their product.
Available statistics, however, tell a different story. Jackie Strano, executive vice president at Good Vibrations, says their highest-selling products are priced between $50 and $100. Kaczanowska from IBIS terms adult toys are discretionary expenses and says the product category is volatile and susceptible to price swings in times of economic distress."
---
Details Magazine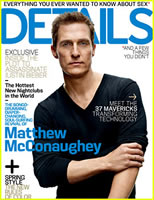 Discreet Vibrators from Good Vibrations are the Perfect Pairing for Partner Play
Date: April 2013
Author: Alyssa Giacobbe
Title: The DETAILS Sex Report
Summary: DETAILS magazine reviews trends and changes in the realm of sex, and includes Good Vibrations' Staff Sexologist Dr. Carol Queen's reflections on straight men engaging in anal play.
The Gaying of Straight Sex
In The Ultimate Guide to Prostate Pleasure, co-author Charlie Glickman, Ph.D., helps men locate their "P-spot" for the bigger, badder orgasms that come with anal play -- something that an increasing number of men already know. "People still connect preferred practices with sexual orientation, like the one linking gay men with anal sex," says Dr. Carol Queen, a staff sexologist at the San Francisco store Good Vibrations. "But this idea has long been sidestepped by men who really wanted the experience of anal." Now even a typical wife is donning a strap-on: Anal-centric sex toys such as beads, butt plugs, and strap-ons are top sellers among straight couples. It helps that there are now porn and instructional videos featuring men on the receiving end, as in the cult-favorite movie Bend Over Boyfriend, and that sex columnist Dan Savage popularized the name "pegging" to describe the practice. "Once something has a name," Queen says, "people can Google it."
---
ESSENCE magazine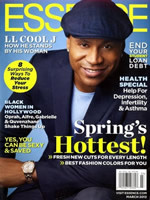 Discreet Vibrators from Good Vibrations are the Perfect Pairing for Partner Play
Date: March 2013
Author: A.S.
Title: Sex & Love: Sex Talk Q&A
Summary: Good Vibrations Staff Sexologist Dr. Carol Queen suggests "guy-friendly" vibrators that won't intimidate a timid lad.
"Q: My lover is turned off by my vibrator, which is shaped like a giant penis. Can you recommend something more guy-friendly?
A: "Over the past five years we've seen a lot of new toys for shoppers who don't like the aesthetics of vibrators that resemble a penis," says Queen, whose company offers a broad selection of discreet vibrators on its site, goodvibes.com."
---
iVillage.com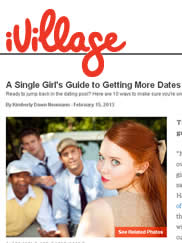 A Single Girl's Guide to Getting More Dates
Date: February 15, 2013
Author: Kimberly Dawn Neumann
Title: A Single Girl's Guide to Getting More Dates
Summary: What's a great way to be more attractive? Have more fun and love your life as it is! So says Good Vibrations' Staff Sexologist Dr. Carol Queen….
"Ready to jump back in the dating pool? Here are 10 ways to make sure you're on top of your dating game.
Love being single! You'll be happier -- and way more attractive to other people -- if you love the life you're living right now. "If you truly believe life doesn't begin until you're coupled up, you lose the single most attractive thing about yourself -- the joy and confidence that draws other people to you," says staff sexologist for Good Vibrations, Carol Queen, Ph.D. "You're answering to yourself, so make a list of the things you like to do, and make sure to do them on the regular!" This is your time to enjoy yourself. Get busy doing that and the rest will fall in place."
---
Boston DIG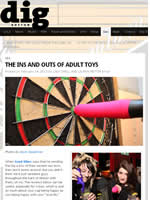 A Box of Sex Toys Walks into a Bar…
Date: February 14, 2013
Author: Cady Drell and Lauren Metter
Title: THE INS AND OUTS OF ADULT TOYS
Summary: Intrepid DIG reporters take a box of Good Vibrations to a local bar for product reviews, hilarity and hope ensues.
"When Good Vibes says they're sending the Dig a box of their sexiest sex toys, they don't screw around. But you didn't think we'd just tantalize guys throughout the bars of Allston with them, oh no. The reviews below can be useful, especially for V-Day, which is just as much about your vag being happy as you being happy with your 'love life.' Product reviews follow."
---
East Bay Express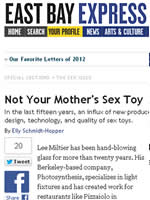 Sex Toy Transformation
Date: February 13, 2013
Author: Elly Schmidt-Hopper
Title: Not Your Mother's Sex Toy
Summary: East Bay Express examines the evolution of Sex Toys in a rapidly evolving industry.
"In the last fifteen years, an influx of new producers has revolutionized the design, technology, and quality of sex toys. According to Dr. Carol Queen, who has been the resident sexologist at Good Vibrations since 1990, the first major change in sex toy style began with a simple move away from "Caucasian-equals-butterscotch"-type coloring. "The best thing you could hope for in the Eighties was pink and blue, and that was so Eighties anyway," she said. The early 1990s featured jewel tones that Queen said were "harbingers," and some new, less-phallic shapes made the products more acceptable for media coverage.
"I think it was in the late Nineties when a design magazine got in touch with us [at Good Vibrations] and said, 'We're looking to showcase your most interesting designs,' and that was the first moment I can recall that anyone had said design," said Queen. "If they had waited ten years to do that issue, they would have had too many toys to choose from, but at the time there were only a small handful of interesting shapes."
---
Bliss Tree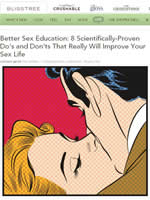 Practical Knowledge for Knockin' Boots
Date: February 7, 2013
Author: Cait Gordon
Title: 8 research-backed do's and don'ts that will improve your sex life
Summary: Good Vibrations Staff Sexologist Dr. Carol Queen explains how your diet effects your sex life and why household items aren't ideal sex toys.
"DO realize that your diet and medications effect taste and smell
Food, medication, and alcohol play a large role in how your sexual fluids taste and smell. Dr. Carol Queen, Ph.D, and Staff Sexologist at Good Vibrations, explains, "People tend to notice the strongest differences in people who eat lots of meat–the reason has to do with the breakdown products of proteins in the body." This is precisely why people swear they have a less noticeable odor and taste if they eat a diet full of fruit like papaya and pineapple as opposed to bitter veggies like asparagus and garlic.
DON'T use a household items as a sex toy
If you're in a pinch, don't reach for a makeshift sex toy. Household items were not designed to be sexually pleasurable. Dr. Queen illustrates the issues, "They may be made of a material that retains microbes, or have never been cleaned with this particular use in mind. They may have been well-cleaned, but with a caustic or too-strong-for-mucosa household product." So clean or not, the results could be devastating to your lady parts."
---
BetterAfter50.com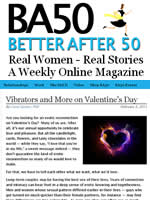 Vibrators and More on Valentine's Day
Date: February 2, 2013
Author: Carol Queen
Title: Vibrators and More on Valentine's Day
Summary: Good Vibrations' Staff Sexologist Dr. Carol Queen's expounds upon the importance of communication and exploration for hot sex after fifty.
"Are you looking for an erotic reconnection on Valentine's Day? Many of us are. After all, it's our annual opportunity to celebrate love and pleasure. But all the candlelight, cards, flowers, and tasty chocolates in the world -- while they say, "I love that you're in my life," a sweet message indeed -- they don't guarantee the kind of erotic reconnection so many of us would love to make. For that, we have to tell each other what we want, what we'd love…."
---
Curve Magazine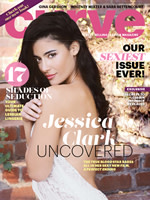 Good Vibrations Featured in Curve Magazine's Toys for Bois Collection
Date: January/February, 2013
Author: Yana Tallon-Hicks
Title: "Toys for Bois: Sexy tools and tricks of the transgender trade"
Summary: Curve Magazine explores the best toys and tools for gender expression, including sexy and practical props from Good Vibrations.
"Whether you're trans, genderqueer, lesbian, or otherwise, your mind is still your biggest sex organ. The Tantus Realdoe can be worn harness-free, with one end worn internally by the "doer" and the other end externally available for your partner. ($169, goodvibes.com). The Vibrating Pleasure Pump provides simultaneous suction and three speeds of vibration in one encompassing cupped end and can be extra-fun when used with Sliquid Organics Stimulating O Gel, which uses peppermint and menthol to tickle your sensitive spots pink ($32, $20, www.goodvibes.com)."
Current Press Archive: 2013 | 2012 | 2011 | 2010 | 2009 | 2008 | 2007