How to Choose a Condom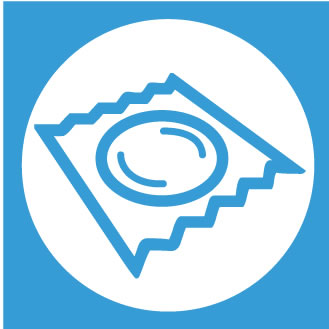 GoodVibes.com > How To Articles > Condoms & Safer Sex
There are plenty of choices when it comes to condoms, so finding the one that'll work for you is easier than ever before. If you've been disappointed by condoms in the past, don't let that discourage you. With so many brands out there these days, there's sure to be one that works for you.
Condoms for Fellatio
If you plan on using a condom during oral sex, choose a plain non-lubricated condom like Unlubricated Durex condoms. To make the job more tasty there are a number of fun flavored condoms like Glyde Flavored Condoms. If none of these flavors tickle your fancy, try one of our tasty flavored lubricants.
If it's the look of a wrapped cock that provides a little extra joy when you're sucking and licking your favorite lollypop, try Durex Rainbow Colors Lubricated Condoms that come in bright colors like red, yellow, blue and more. Yes, they are lubricated, but you can use any of the lubes mentioned above to change the flavor to match your mood.
Condoms for Vaginal and Anal Penetration
Every brand of condom is somebody's favorite and it's amazing how different they can feel to different people. If you've never found the condom that suits you, we suggest trying a few brands. The Whole Kit And Caboodle Pack, the Condom Sampler Pack, and the Super Size It Pack offer a variety of options. The best way to compare them is to use one for a few minutes, and then change to a different one. It's like doing a wine tasting -- the best way to see how they work is to test them back to back. You maybe surprised at how different they feel.
A little lubricant can make condoms feel a lot better because latex has more friction than skin. Put a couple of drops inside the head of the condom before putting it on. That keeps the lube at the head of the penis, where it's more sensitive, and off the shaft, so the condom is less likely to slide off.
If you want something a bit more sensitive, try thinner ones like Kimono, Maxx, and Skinless Skin. You might also like the Trojan Twisted Pleasure Condom. The type with a loose pouch at the head slides back and forth across the head of the penis, providing extra sensation, especially with a little lubricant inside the condom.
If you and/or your partner are sensitive to latex, try the Skyn or Trojan Supra Condom. Even if you're not latex-sensitive, you may like the super sheer materials these varieties are made from.
The FC2 Female Condom is a great option if you want something a little different. Made from latex-free nitrile, you insert it into the vagina or anus, which means your partner doesn't need to have a condom on his penis. Not only does this make things feel great, but you can use two and switch from vaginal to anal sex without needing to change condoms. Or have sex with two different people without getting body fluids mixed.
Lubricant
All condoms are either powdered or lubricated in order to keep the latex from sticking to itself. But you may find that a little extra lube helps, especially since latex tends to stick to skin. Use a water-based or silicone lube, since oils (whether vegetable or mineral) will make condoms break in about 30 seconds.
A good rule to remember is that if a lube doesn't say "condom-compatible," it probably isn't.

Buy Condoms