Good Vibrations Affiliate Program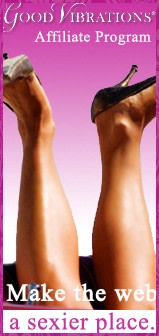 Looking for a way to earn sales commission for your website or blog? Then join our Good Vibrations Affiliate Community where anyone with a website, blog or social networking website can spread the word about Good Vibrations and profit from sales at GoodVibes.com!
Good Vibrations Affiliate Program is perfect for those who want to share our site's extensive quality sex toy as well as our trusted sex education with others.
Publishers on the Pepperjam platform have the opportunity to continue to promote Good Vibrations on their website, blog, social media channels, or mobile app, earning commission from transactions they refer to our websites. It's free to sign up and use Pepperjam! We know this may be a bit out of your day-to-day or normal realm, so we will be setting up a learning session with our team and reps at Pepperjam as well to go through your questions & concerns in the coming week but love to have you set up prior.
If you have any questions, please contact Affiliate Manager Andy directly: AndyD@goodvibes.com