News & Awards
Good Vibrations is the nation's first and premier provider of sex education and sex postive products as seen on Oprah, MSNBC, and Dateline, and in magazines such as Men's Fitness, Essence, Cosmo, and popular sites such as Oprah.com and MarieClaire.com. Lauded by local and national press, Good Vibrations stores (four retail stores on two coasts) and its robust website, GoodVibes.com, were awarded for excellence, including the DIG Award, the Cybersocket Award for Best Lesbian Site, and the "O" Awards for "Outstanding Online Retailer" by AVN Novelty Business, the AVN Award of Excellence.
Good Vibrations' sister company Good Releasing was recently honored with several Feminist Porn Awards and AVN Award Nominations. Our store and are products create quite a "buzz"! Good Vibrations has been making the world a sexier place for over 33 years! We've also been awarded:
Certificate of Recognition from the California Legislature, 2006
Certificate of Recognition from the California Legislature Assembly, 2004
Certificate of Recognition from the California Legislature Assembly, 2003
Certificate of Honor from the board of Supervisors, 2003
In The News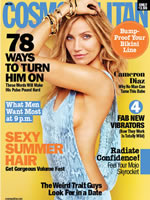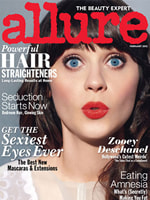 ÂÂ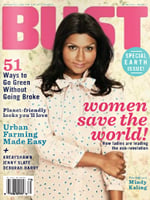 ÂÂ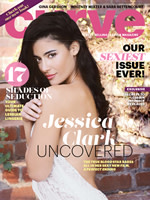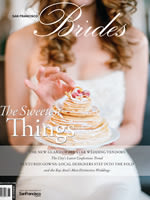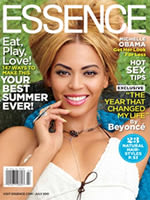 ---
Current Press Archive: 2017 |2016 |2015 | 2014 | 2013 | 2012 | 2011 | 2010 | 2009 | 2008 | 2007
---
The Establishment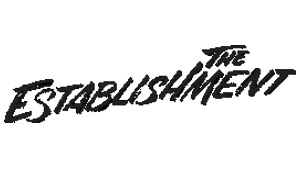 When We Body-Shame Sexual Abusers, We Shame All Those Who Look Like Them And Did Nothing Wrong
If we keep acting like sexual abuse is wrong because the abuser is physically unattractive, abusers deemed attractive will get away with it.
Date: December 11th, 2017
By Suzannah Weiss
...
"It troubled me greatly to hear journalists and educated people revert to this language that doesn't have to do with the problem with these assaults," Good Vibrations staff sexologist Carol Queen told me. "The notion of sex positivity doesn't demonize any sexual desire except non-consensual. Why it would be any more problematic for someone to masturbate in front of a person than any other non-consensual thing is ridiculous."
...
---
The Bold Italic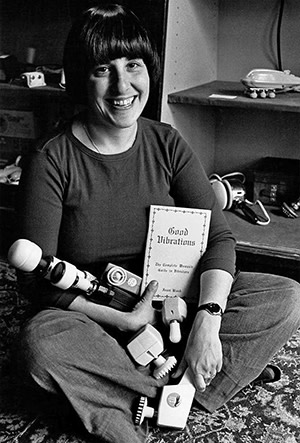 How the Bay Area Pioneered Sex Positivity
Stores like Feelmore and Good Vibrations offer safe spaces for patrons to purchase sex toys and learn about enhancing their own pleasure
Date: November 13th, 2017
By Mel Burke
...
Joiner's model of joining community with commerce has a long history in the Bay Area. In her new book, Vibrator Nation, Dr. Lynn Comella cites the opening of Good Vibrations in San Francisco in 1977 as part of a shift in sex-toy commerce and culture. Eve's Garden, in New York City, had just opened a few years prior, and both the founders set out to make something new and better.

"They really, with this bright-eyed sense of idealism, stepped into a marketplace that wasn't really thinking about women at all," said Comella. "And they rolled up their sleeves and thought, 'We're going to create a different kind of sex shop.'"
...
---
Jezebel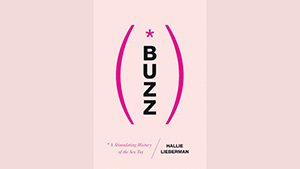 On the Hunt for Early American Sex Toys
Date: November 8th, 2017
By Hallie Lieberman
Ever wondered about those early vibrator ads from decades past that pointedly do not mention sexual pleasure? Idly asked yourself how the wives of 19th century ship captains entertained themselves? Then you are the target audience for Hallie Lieberman's Buzz: A Stimulating History of the Sex Toy.

Out this week, Buzz makes a wonderful companion to another recent release that appeared earlier in the fall on this blog, Lynn Comella's Vibrator Nation. That book takes a more ethnographic tack and focuses specifically on feminist sex toy stores, delving into the histories and approaches of Eve's Garden, Good Vibrations, and Babeland. Lieberman, on the other hand, casts a broader net. While she devotes time to groundbreaking women such as Dell Williams, Betty Dodson, and Joani Blank, Lieberman also ranges from Reuben Sturman, a more stereotypical purveyor of pornography and "marital aids," to people like Gosnell Duncan, whose pioneering work on silicon dildos grew out of his disability activism, and Duane Colglazier and Bill Rifkin, founders of The Pleasure Chest, two gay men who rethought what an adult store could look like and in so doing, helped lay the groundwork for a more woman-friendly adult novelty business. Oftentimes it's a downright heartwarming read, a chronicle of people who genuinely wanted to bring pleasure to their fellow humans.

Lieberman's story largely takes place over the course of the second half of the 20th century and is tightly tied to the sexual revolution. But she sets the scene by looking further back—which, when you are researching sex toys, is easier said than done. Here is a glimpse inside her process, during a visit to the Smithsonian.
...
---
The Daily Caller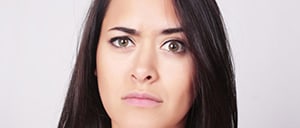 Harvard Sex Week Presenter: Anal Sex 'Increases Truth'
Date: November 8th, 2017
By Rob Shimshock
Harvard University hosted an anal sex workshop Tuesday, at which organizers held a sex toy raffle and demonstrated various means by which students could anally pleasure themselves and others.

Reasons to have anal sex as presented to students included "because it feels good," "tantalizing taboo" and "increases truth/intimacy," according to The College Fix. The "What What in the Butt: Anal 101" workshop drew almost 50 students and was featured as an event during Harvard's Sex Week, which pledged "the more events you go to, the more you'll learn, and the more toys and awesome giveaways you'll walk away with!"

Adult shop Good Vibrations conducted the workshop and passed out butt plugs and gloves to students. The presenter from the shop, who identified herself as Natasha, told students that "not all men have penises, not all women have vaginas…the butthole is the great sexual equalizer. All humans have a butthole."
...
---
Men's Health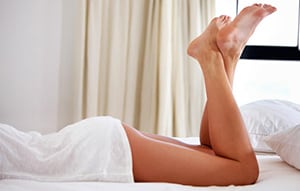 Harvard Just Hosted an Anal Sex Workshop Called 'What What in the Butt'
These Ivy League students got some thorough sex education
Date: November 8th, 2017
By Jack Crosbie
The jokes about Harvard University's well-publicized anal sex workshop pretty much write themselves— the tight-ass Ivy League, etc.—but the event itself wasn't just for laughs.

The workshop, titled "What What in the Butt: Anal 101," was part of Sex Week at Harvard, a yearly event organized by Sexual Health Education and Advocacy Throughout Harvard, or SHEATH, since 2011. Sex Week's goal is to "connect diverse individuals and communities" and "promote a holistic understanding of sex and sexuality." While anal sex teachings might be on the menu, it's not all about titillating college co-eds. Still, connecting Harvard (a venerable American institution still mostly populated by dudes who look like JFK) with anal sex (anal sex) is a pretty funny juxtaposition.
...
---
The Harvard Crimson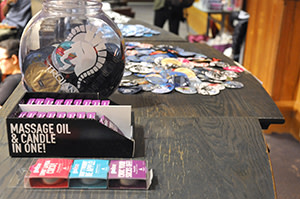 Sex Week Prepares to Stimulate Campus Dialogue
Date: November 6th, 2017
By PAULA M. BARBERI and ISABEL M. KENDALL, CONTRIBUTING WRITERS
A series of discussions and panels will explore everything from consent to sex toys and sexually transmitted infections as part of the College's seventh annual Sex Week. This program is coordinated by the student-run group Sexual Health Education and Advocacy Throughout Harvard, SHEATH, along with a variety of partners.

The week kicks off with "Protection Methods: Condoms, IUDs, The Pill, Oh My!" and ends a myth-busting panel titled "If I Have Sex Will I Get Pregnant and Die?" Sex Week workshops touch on many aspects of sexual activity, including condoms, consent, and healthy romantic relationships. Organizations inside and outside the University will co-sponsor many of these workshops.

Lita D. Peña '19, co-president of SHEATH, said that Sex Week aims to inform students and provide a space for open dialogue and questions around sex
...

Good Vibrations, an adult-entertainment store located in Harvard Square, will collaborate with Harvard Sex Week again this year for three events.

Ruby Vail, a Good Vibrations store manager and sex educator, will lead one of the workshops discussing how to express wants and needs in a sexual context. She said her aim is to dismantle the standards in college hookup culture.
...
---
Healthline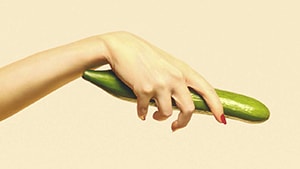 Don't Use Cucumbers for 'Vagina Facials,' Experts Say
Date: November 3rd, 2017
by Jessica Wakeman
One expert said she was ''horrified'' when she saw a video that encouraged women to use peeled cucumbers as a way to cleanse their vagina.

Dr. Jen Gunter, an OB-GYN and pain medicine physician, has made it her mission to discuss on her blog what she considers nonsensical stories about women's reproductive health.

Last month, she addressed YouTube videos that she said erroneously and dangerously claim that inserting a peeled cucumber inside a woman's vagina will cleanse it.

"Apparently some women are peeling cucumbers, inserting them vaginally, and then twisting them around for up to 20 minutes to refresh or cleanse or flush or something," Gunter wrote. "This wasn't some weird Facebook thing one person did once. I Googled 'cucumber vagina cleanse' (God help me, I did) and WAS HORRIFIED."

Gunter called the idea that vaginas are "dirty" and need to be cleansed "misogyny dressed up as healthcare and I am having none of it. Vaginas are not dirty."
...
---
Bustle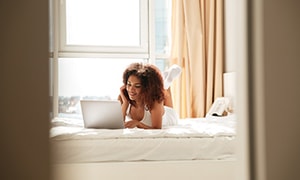 O.School Is A Sex Ed Platform By A Queer Woman Of Color & It Could Be A Gamechanger
Date: November 2nd, 2017
by Mariella Mosthof
A new sex ed platform called O.school is launching November 3 and it promises a "radical," "groundbreaking," "troll-free sex ed oasis on the internet" to "revolutionize" the ways we talk about sex, pleasure, consent, and trauma. It also boasts a queer woman of color as a founder who promises to center women, LGBTQ+ folks, and people of color with a diverse team for a truly intersectional experience. And key to its premise is an interactive platform where members can engage with educators and each other like never before. But, like any new platform, O.school can't be all things to all people right off the bat. Doing community outreach and scaling a startup have never been friendly bedfellows and, while O.school has admirable goals, it still has room for improvement in the highest-need areas of LGBTQ+ sex ed.

O.school founder Andrea Barrica has been working in Silicon Valley for years, and secured funding for her own startup from Oculus, Google Maps, and NerdWallet, gaining endorsements for her project from Planned Parenthood and even speaking at the UN about the future of sex education along the way. O.school aims to be a sex ed platform existing as a middle ground between somewhere like Planned Parenthood and internet porn.
...
---
SFweekly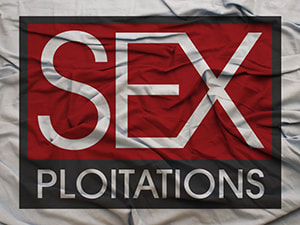 O.School Is the Future of Sex Ed
The "pleasure-based" livestreaming platform goes beyond discussions about health.
Date: November 1st, 2017
by Lawrence Kane
"It's really hard to get anything sex-related to pass on Facebook," says Andrea Barrica, the CEO of O.School.

She's speaking not merely of exposed nipples or even of ads for sex toys, but of educational events. In some ways, this is a major step back from the sex-positive 1990s, when information about the body was more widely disseminated (albeit through other channels). It's frustrating, and it's rather silly.

Or, as sexologist Carol Queen puts it, "There's this notion that sex is still not mainstream-able. TV notwithstanding, people are like, 'If we have a sex ad for a vibrator on Facebook, children will see it!' But there are technologies available so that your children will not see what you don't want them to see. … And if you try to act like vibrators and sex questions in general are shameful and worth hiding, they will try and figure this stuff out — and guess what they'll look at?"
...
---
Cosmopolitan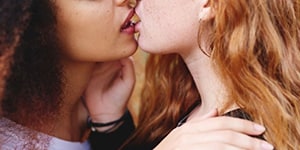 How to Have Sex With a Double-Sided Dildo
From gag gift to OMG.
Date: October 23, 2017
by Lane Moore
When I think of double-sided dildos (which are pretty much what they sound like in that it's a dildo with two heads that can be used by two people on either end to have sex with each other), I think "gag gift" or "why." Not because they're not functional or valid, but because I don't know anyone who has looked at one of them for the first time ever and thought, Oh yes, that would not only be easy to use and would also instantly pleasurable for both parties! Double-sided dildos, as far as I can tell, take a certain Next Level of finesse because you're both in charge of keeping this thing in your vaginas (or butts) and maintaining a rhythm that seems akin to a game of tug of war but with a plastic dong that looks like a larger version of a water snake toy.

...
Don't be afraid to get handsy! Dr. Carol Queen, sex educator and resident sexpert at Good Vibrations, says if you're using a double-sided dildo with a bulb that stays inside one partner, deciding who will do the moving might take some getting used to. "Thrusting towards each other might work," she explains. But also, don't be afraid to grab it in the middle and add some motion and stability that way.
...
---
VICE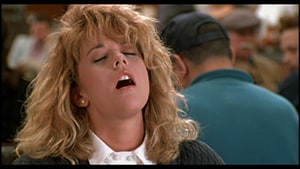 People Keep Asking Google How to Give a Woman an Orgasm
So here's the definitive answer from experts.
Date: October 17, 2017
by Anna Fitzpatrick
Late last month, condom company Durex revealed the most googled questions about sex. Many have straightforward answers. (No, you can't get rid of herpes. The "clap" is gonorrhea.) Other answers—"how long does sex last"—vary widely.

But arguably the most important googled sex question is "how to make woman orgasm?" There's a good chance that if you're looking for an answer to this, you want something that's fool proof, one size fits all—the ol' up, up, down, down, left, right, left, right, B, A of pleasuring a woman. Unfortunately, I am here to break the shocking news: All women are different, and everyone responds to different stimuli.

...
If you want to get your study on, Jackie Rednour-Bruckman, the executive vice president of the women friendly retailer Good Vibrations, recommends Vibrator Nation by Lynn Comella, as well as Good Vibrations's online guides to cunnilingus and vibrators. "Vaginal insertion can be lovely, but the majority of women will not orgasm strictly from this," says Carol Queen, PhD, Good Vibrations's resident sexologist and author of THE Sex & Pleasure Book. "Vibration is a really effective source of clitoral stimulation, but if you apply the vibe to the clit and it feels irritating, choose a milder vibe, or move the vibe away for a while and stimulate in other ways until you're ready for it."
...
---
GLAMOUR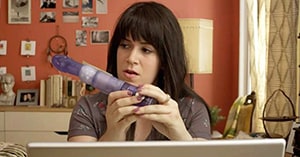 It's Surprisingly Hard to Ban Toxic Sex Toys, But Here's How to Protect Yourself
Date: October 13, 2017
by Kate Sloan
These days, most of us will carefully check ingredients lists for gluten and trans fats, demand that our water bottles be made without BPA, and seek out paraben-free, body-safe cosmetics. But the average person can't tell you what a toxic sex toy is—or even that they exist. Unfortunately, in the unregulated sex toy industry, plenty of sex toys are potentially rife with products that can hurt you (and not even in the fun, kinky way).

Perhaps the most well-known offender in terms of toy toxicity is a group of chemicals known as phthalates, a plasticizer that can be blended with other substances to make them softer and more flexible. A spotlight's been shone on phthalates in recent years, as publications like Bustle and Bitch, and feminist-oriented sex shops like Good Vibes and Babeland have spoken out against them.
...
---
San Francisco Chronicle
SF's top 10 heritage retailers
Date: October 12, 2017
by Carolyne Zinko, Tony Bravo, John McMurtrie & Maghan McDowell
What becomes a legend most? Try San Francisco's oldest existing commercial business: Shreve & Co. Founded in 1852 as the Shreve Jewelry Co., it was incorporated under its current name in 1894. Its building survived the 1906 earthquake and fire, but record-high Union Square rents in 2015 proved to be a harder force to withstand, and the jeweler to the rich and famous relocated to Post Street. "It is not uncommon, even for a heritage business, to have to shift a block or two to capture its home for the next 100 years," retail broker Julie Taylor told The Chronicle at the time. Such moves are a common thread among these retailers Style chose to feature in our sixth annual Top Shops issue. But a change of address has not deterred customers, who have remained loyal to these 10 businesses. Their appeal may transcend trends, but they remain firmly rooted in San Francisco.

Good Vibrations (1977)

The first women-friendly sex shop in the nation may have been racy when it opened 40 years ago, but Good Vibrations founder Joani Blank wanted females to feel comfortable and safe exploring their sexuality with toys, erotica and educational materials. Four decades later, cultural taboos have been challenged, women empowered, the masses catapulting books on bondage play to the best-seller list, and Good Vibrations has seven Bay Area locations, two on the East Coast and an online business to boot. Customers appreciate classes on a variety of sexual practices, and tourists find their way to the company's Antique Vibrator Museum in the Polk Street store. The biggest change since 1977? More companies are making more technologically advanced vibrators and toys than ever before. But some things haven't changed much at all. "People are more matter-of-fact about walking in to shop today — except when they aren't," says staff sexologist Carol Queen. "Sex education is in many places still terrible, and certainly not oriented to pleasure. We definitely still see people dealing with a lot of shame, and even more frequently with a case of nerves, right next to groups of laughing, comfortable bachelorette partygoers."

603 Valencia St., S.F. https://www.goodvibes.com/s.
...
---
COSMOPOLITAN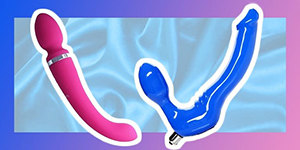 5 Queer Women on Their Favorite Sex Toy
Date: October 12, 2017
by Carina
There are a lot of sex toys out there, and while sifting through and finding the right one for you might seem like an impossible task, word-of-mouth is always a good start. After all, you might not be able to return that dud of a vibrator after the flashy packaging drew you in, but you can tell your friends to stay away from it. Here, five queer women on their best sex toy recommendations.

We-Vibe Unite

"My partner and I tried this out the first time a few months ago and it was magical. She wore it and I got to control the remote. This toy allows for trust and enjoyment. One person is truly just the receiver of bliss while the other is controlling the enjoyment. The great thing about this toy as well, [is that] it can be worn, while being penetrated. You can also wear it and give your partner the remote while you are out. That is truly a way to spice up your evening; you never know when your partner while speed it up or slow it down." —Jimanekia, 30
...
---
BUST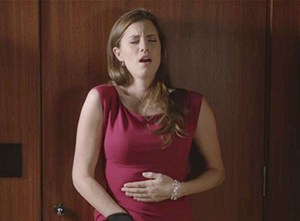 How Can I Get In The Mood To Masturbate?
Date: October, 2017
by Bust Magazine
We're bringing you this Q&A from BUST's Sex section, featuring advice from sexlogist Dr. Carol Queen.

Question: I find it difficult to masturbate when I'm not feeling sexy, which is usually relegated to when I'm dating and/or having sex with other people. Porn helps, but I'd like a more mindful experience. And, being mindful can bring about painful feelings about being alone, which bums me out too much to get off! I'm on SSRIs, but I don't have trouble coming with other people, and I can usually eke out an orgasm or two by myself when I'm feeling hormonally horny. I'm in therapy, but I don't feel super comfortable bringing this up with my shrink. –Out of Touch I'm sorry that you don't feel you can talk to your shrink about this, because any sexual issue tends to benefit from a little fresh air...I mean, communication. In particular, your "masturbation = I'm alone" self-talk would be particularly useful to talk about in therapy. But let me add some thoughts now, whether your shrink gets a chance to weigh in or not. Please try to stop thinking of masturbation as a substitute for sex. It's not, and as you've experienced yourself, women often want to masturbate when they are involved in a relationship that cranks up sexy feelings.

Dr. Carol Queen: Rather than holding on to the idea that masturbation isn't something you'd prioritize if you had a person to connect with, try to see it differently. When I spoke in China many years ago, the term the translators used for masturbation was "self-comfort." That's such an awesome notion, and takes the urge to do it out of the "I'm horny" category and makes it more like, "I feel so much better when I do my yoga stretches." Sexpert Annie Sprinkle talks about "medabation," as in, using masturbation as a form of meditation. As with non-clit-centric meditation, that means you need to get extraneous ideas out of your head. If you have sexual fantasies, that's great, but stay away from the "It isn't working, I feel lonesome" self-talk and just try to connect with the sensation of your hands and toys on your body. That in itself can be meditative and centering; sex therapists call it "sensate focus." It is likely that your SSRIs are playing into this, and that means it's harder for you to feel pleasure. Remember that sensory pleasure and orgasm can, but don't need to, go hand in hand. Just take some time every few days to chill out, still the "monkey mind," and stay in touch with your body.
...
---
Bustle
How Does Sex Affect Your Vagina? It's Time To Debunk That "Loose" Myth
Date: October 5th,, 2017
by Suzannah Weiss
...
If you never pull back your clitoral hood to touch the clitoris directly, it might adhere to the clitoris, Good Vibrations staff sexologist Carol Queen tells Bustle. But this isn't permanent. If you masturbate or receive oral or digital sex with it pulled back often, it'll pull back more easily. Some people find that this brings them more sensation, though others also find rubbing the hood to be super intense.
...
---
San Francisco Chronicle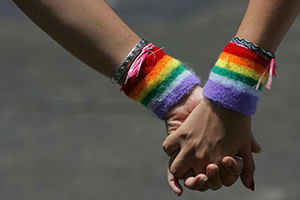 Bisexual: The other bad 'b' word
Bi women don't always have an easy time even in liberal San Francisco.
Date: September 21st, 2017
by Maghan McDowell
...
Carol Queen, staff sexologist at retailer Good Vibrations and founder of the Center for Sex & Culture, has been battling the stigma for more than 40 years. When she came out as bisexual in the '70s, the LGBT community treated it as a phase, she said. "It was the fence-sitter rhetoric, a bi epithet that, 'You don't know where you are going to wind up, so it wouldn't be good to have a relationship with you because you can't be trusted,'" Queen said. At one time, she called herself a lesbian to get a girlfriend.

That stereotype has been undercut by a 10-year study by University of Utah psychologist Lisa M. Diamond, who found that bisexuality among women is a stable identity rather than a transitional phase toward lesbianism.
...
---
Cosmopolitan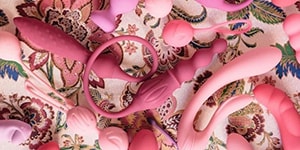 The Incredible Thing That Happened When Women Took Back the Sex Toy Industry
We take the toys we have today for granted.
Date: September 7th, 2017
by Lynn Comella
When 26-year-old Amber, a Las Vegas transplant, realized her dog ate her favorite vibrator, she headed to Las Vegas's Adult Superstore. Amber grew up in a small Midwestern farming town of 6,000 people, a place where sex "was shunned" and sex toys were never discussed. If she wanted to find a sex-toy store back home, it would mean driving 40 miles to St. Louis. Now, at the Adult Superstore, a large sex-toy emporium — think clothing retailer H&M but for sex toys — she knows that she'll not only have many options to choose from, but once there, she'll be treated with respect by a knowledgeable staff. But it wasn't always this way.

For many people, the sex industry evokes stereotypes of predatory capitalists and creepy guys in trench coats, adult shops with XXX-rated imagery, and cheaply made products. Over the past 40 years, however, the sexual marketplace has undergone a slow and steady transformation, with feminist entrepreneurs leading the way with stylish boutiques, quality sex toys, and socially conscious business practices.

The fact that you can now buy vibrators at many neighborhood Walgreens is the result of decades of efforts on the part of women-friendly sex-toy retailers, such as Eve's Garden, Good Vibrations, Babeland, and others, to make sexual products more respectable — and therefore more acceptable — to segments of Middle America that previously never would have dreamed of venturing into an adult store.
...
---
Made Man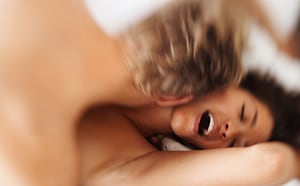 How to Make Her Orgasm in Less Than 60 Seconds
These four tips will help you get her off in no time.
Date: August 10th, 2017
by Megan Heintz
Knowing just how to please a woman is difficult—they're all different and as many as 80 percent of women have difficulty reaching orgasm from vaginal intercourse alone. So you'll have to communicate and put in some work to get her to climax if that's the end goal.

That being said, so long as you hit all the right places, you'll be able to get her to 'O' in no time. While experts have said that it usually takes about 10 to 20 minutes of sex for women to achieve orgasm, it is certainly possible to get her off sooner—like, in under 60 seconds. No, we're not suggesting you rush things, but getting her there quicker just means it'll be easier to get her there multiple times thereafter.

Read on for tips on how to do the deed.

1. Understand her orgasm.
Dr. Carol Queen, Good Vibrations' staff sexologist, says orgasming in under a minute is dependent upon three things: how easily orgasmic she is to begin with, how turned on she is when stimulation starts and whether the stimulation is optimized to provoke orgasm in the first place. So before you start messing around, make sure she's down to mess around. ...
---
Romper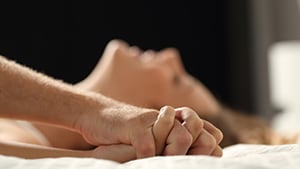 Are You Hornier During The Solar Eclipse?
Mother Nature's Looking Out For You
Date: August 9th, 2017
by Caroline Shannon-Karasik
Beyond being stellar to see, the solar eclipse has some people wondering about how the celestial event will shake up things down here on planet earth. If you are like my mom, then you call your daughter — ahem, me — to remind her to keep tabs on her migraines. (Something about imbalances.) Some cultures believe it's necessary to wear a safety pin to protect a baby in the womb and guard against birth defects, while others say the event means something different for each zodiac sign. But what about your love life? Are you hornier during the solar eclipse?

"It wouldn't be correct to say, without over-generalizing, that desire is increased around an eclipse," Dr. Carol Queen, the staff sexologist at Good Vibrations tells Romper. "But when it is, it's likely linked to the extreme rarity and amazing spectacle of the eclipse — sort of like a cosmic vacation where everything is completely different for a brief time. It's not at all unusual for out-of-the-ordinary events to make some people feel extra-sexual, or want to commemorate such a one-off experience with sex." ...
---
Cosmopolitan
The Best Selling Item at 10 Sex Stores
Sex shop insiders on their most popular merchandise.
Date: July 31, 2017
by Carina Hsieh
The world of sex toys can be daunting if you don't know exactly what you're looking for. There are almost too many options. From silent vibes, to the most powerful vibes, to tiny cute vibes pretty enough to leave out like an objet d'art, where do you start? Luckily for you, ten of the best sex shop owners and insiders give the scoop on the number one best selling item at their respective stores, so you can at least gauge where to start.

"After all these years, our #1 is still the Magic Wand vibrator! Customers love it because it's powerful, consistent, and gets the job done. It's been recommended by a veritable who's who of sexperts and experts (starting with the one and only Betty Dodson), and is responsible for countless first orgasms. People who are new to vibrators often look at it with wide eyes because it's so big—we explain the way to use it (clitoral! Not insertive!), filling that gap in their sex education. And now, decades after it became a star even though you have to plug it in, it now comes in a rechargeable version." — Dr. Carol Queen, Resident Sexologist, Good Vibrations ...
---
dna info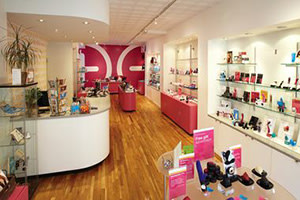 Feminist Sex Toy Shop Babeland Sells to New Owner After 25 Years
Date: July 25, 2017
by Caroline Spivack
PARK SLOPE — The founders of high-end sex toy shop Babeland are calling it quits and selling to Bay Area rival Good Vibrations after 25 years of hawking feel good adult toys.

Babeland's four stores — including its Park Slope, Lower East Side, and SoHo locations — will keep their name and feminist spirit, but will come under the ownership of the San Francisco sex toy purveyor starting late August, according to Babeland co-founder Claire Cavanah, who said the sale comes after "a few rough years" of business.

"We reached a point where it was difficult for us to grow," said Cavanah, who founded the Seattle-based chain with partner Rachel Venning. "Our stores are making money every year, but we just couldn't quite get over that fourth store."

But with a shared mission statement of sex positivity, Cavanah feels Good Vibrations is the ideal company to carry on Babeland's message.

"Good vibes is the business that is the closest to Babeland in mission and openness — it really is the best company we could have sold to," said Cavanah.
...
---
Sexual Health Magazine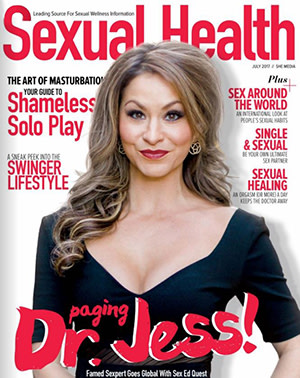 Stroking It
Date: July 2017
Page 60:
"I think a lot of people feel hesitant to explore their own sexual desires beyond what they think is 'normal' For straight men, that might be receiving anal. For straight women, that may be using a vibrator with a partner. The great thing about masturbation is that it helps you learn about your own body, and what you like. We need to normalize that experience and celebrate the folks who are comfortable enough to admit their interests and follow those desires. When it comes to toys, I recommend Hot Octopus' Pulse 3 Solo Stimulator, We-Vibe's Pivot Vibrating Ring or b-Vibe's Rimming Plug. All have vibration settings, and the plug comes with moving beads at the neck to provide extra stimulation." - Andy Duran, lead sex educator, Good Vibrations ...
---
AVN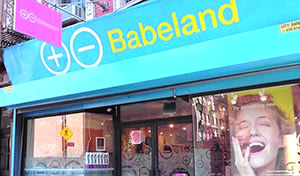 Good Vibrations Acquires Babeland Stores
Date: July 24, 2017
Author: Sherri Shaulis
SEATTLE—Rachel Venning and Claire Cavanah—who founded the feminist and sex-positive adult boutique Toys in Babeland, now known as the small adult retail chain Babeland—have sold their company to San Francisco-based adult retail chain Good Vibrations.

"It's been a joy and an adventure to start and grow Babeland," Vening said in a statement released by the company. "I have enormous gratitude for all the customers, staff, and community that have been part of this. I'm ready for a new adventure. Having Good Vibrations take over makes it easier to let go because we share so many of the same feminist values."

Cavanah and Venning opened the first Babeland store in 1993 in response to the lack of women-friendly sex shops in Seattle. The store offered top-quality products, a pleasant place to shop, and most of all information and encouragement to women who wanted to explore their sexuality.
...
---
Refinery 29
After 25 Years, Babeland Sells To Another Sex Toy Store
Date: July 24, 2017
Author: Kasandra Brabaw
After opening their first store almost 25 years ago, Rachel Venning and Claire Cavanah — the co-founders of Babeland — have decided to sell the company to Good Vibrations, another sex toy franchise.

Babeland's four stores and website will keep their name and their inclusive, feminist spirit, but will be under ownership of Good Vibrations starting in early August, according to a statement shared with Refinery29.

Both Good Vibrations, opened in San Francisco in 1977, and Babeland, which was first opened as Toys In Babeland in Seattle in 1993, were some of the first sex toy shops in the U.S. made explicitly for women.

Before stores like Good Vibrations and Babeland existed, says Good Vibrations' staff sexologist Carol Queen, sex toy stores were seedy and hidden and very clearly meant for men. Shiny silver foil covered the windows of these shops in more conservative neighborhoods, as did big signs shouting XXX in urban areas. Both window coverings, conservative or not, were meant to hide what was going on inside.
...
---
Seattle Times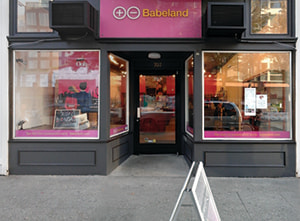 Babeland sex-toy stores sold to San Francisco chain
Date: July 24, 2017
Author: Janet Tu
Babeland, the sex-toys retailer founded on Capitol Hill in 1993 that helped usher in a more open, positive attitude toward sexuality, is being sold to Bay Area adult-toys purveyor Good Vibrations.

Babeland's stores, which now include three locations in New York City as well as the flagship Seattle store, and its online site babeland.com, will retain their names and brand identities, according to the two companies. There will be no layoffs of store employees.

Terms of the deal, which is expected to close next month, were not disclosed.

Babeland, originally called Toys in Babeland, was founded by Rachel Venning and Claire Cavanah as a safe, welcoming place for women and customers of all genders and orientations to discover more about sexual health and pleasure.
...
---
Fatherly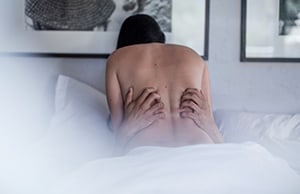 6 Ways To Help You Last Longer In Bed
Date: June 29, 2017
Author: Carrie Weisman
Quality of sex can be measured in a number of ways. For some folks, the longer it takes, the better it is. Of course, those marathon sessions are a little less plausible for those with kids at home. That's why so many parents have come to embrace the quickie. But you will undoubtedly have the occasional nights to yourself. And when that happens, it's time to go slow.

It's not exactly news that it takes men less time than women to reach orgasm during sex. And unlike eating a stack of Pringles Crisps, once you pop, you probably have to stop. After ejaculation, men go through a refractory period where they are unable to achieve another erection for a certain length of time. It's normal and it varies, but it does have a way of interrupting intercourse. The only way to defer it is to delay orgasm, which is why we've put together a list of tips for lasting longer in bed. But first, a friendly reminder from Dr. Carol Queen, the staff sexologist over at Good Vibrations. "Sex is not a linear situation, but a fluid one," she says. "You don't have to do all the same things in the same order every time." Besides, she says, being able to last a long time isn't necessarily the key your partner's sexual enjoyment (did someone say oral sex?). Of course, you don't want things to end too quickly, either. We're all looking for our happy medium.
...
---
Your Tango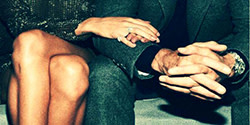 Should You Have Sex While Constipated? 7 Things You Need To Know FIRST
Date: June 14, 2017
Author: Aly Walansky
...
It's generally okay (unless constipation is really severe), but it might be pretty uncomfortable.

"And anything that makes sex uncomfortable is an altered function and ought to be addressed with a doc visit. Also, unless you're able to get so into the sex that it helps you cope with the discomfort, it's not that great an idea to have sex that makes you uncomfortable," says sexologist Carol Queen.
---
The Culture Trip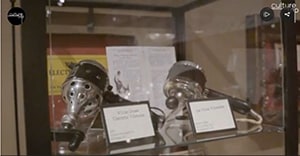 Welcome to the Antique Vibrator Museum, San Francisco's Sex Toy Attraction
Date: June 14, 2017
San Francisco's Good Vibrations Antique Vibrator Museum is exactly what it sounds like: a collection of vintage sex toys, with items dating back to the 1800s and going all the way up to the 1970s.

Good Vibrations itself is a sex toy company that specializes in high-quality pleasure aids, while its cheeky museum tells the storied history of the vibrator. In fact, the museum sits inside the company's Polk Street store. While guests may enter the museum snickering, they'll quickly realize that vibrators haven't always been a gal's best bedside friend. Allegedly, vibrators began as a tool to treat "hysteria," a bogus condition that physicians used to diagnose women with hundreds of years ago. The belief was that a woman who suffered from hysteria was deprived of sexual release, manifesting in a variety of physical and mental symptoms. Author Rachel Maines wrote in her book The Technology of Orgasm that physicians in the 1800s began treating hysteria by sexually stimulating their patients to climax, and that vibrators were invented to make this "treatment" easier.
---
Fatherly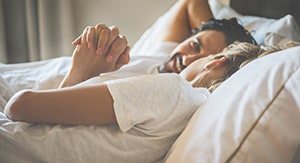 6 Quiet Sex Positions That Won't Wake The Kids
Date: June 8, 2017
Missionary position can be a great way to get it on without making much noise, so long as you make sure to slow things down. Try grinding together instead of thrusting. That way, you can avoid the distinctive slap of your bodies slamming together. And while it often gets a bad rap, missionary also carries an extra perk for the ladies involved. "When you add close body movement to intercourse, you often get more clitoral stimulation, often," says Carol Queen, Ph.D, resident sexologist at intimacy site Good Vibrations.
---
LiveStrong
9 Things You Should've Learned in Sex Ed
Date: June 7, 2017
If only learning about sex was as simple as "birds and bees." If you're like most people in the U.S., your sex ed experience centered on pregnancy avoidance, abstinence and fear-inducing information on sexually transmitted diseases. While these topics can and should be respectfully addressed in sex education, according to experts, there seems to be very little information on actual sex or relationships. Filling in these gaps can help ensure a healthy, happy and safe sex life for you and your partner. Here are 10 things you should definitely know.
---
Bustle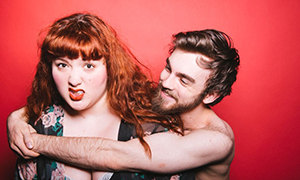 7 Ways To Know If Your Partner Is Being Too Selfish In Bed
Date: June 6, 2017
...There's a fine line between dominant-submissive role playing, and sometimes if your partner is just too controlling in general, it can become worrisome and unenjoyable. Ask yourself this: "Are they directive or demanding? (Again, this could be fun—but only if consensual and you want to be in that role)," says Carol Queen, PhD, Good Vibrations Staff Sexologist to Bustle....
---
Kinkly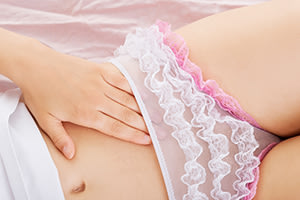 Masturbation Month
Date: May 2017
Definition - What does Masturbation Month mean?

National Masturbation Month started with a San Fransisco based sex toy shop, Good Vibrations. The owners of the toy shop first started observing Masturbation Month in May of 1995 in an effort to banish some of the taboo and stigma surrounding masturbation as well as to raise money for sex-positive charities. In 1999, Good Vibrations introduced the Masturbate-a-Thon, an event that encourages participants to masturbate in order to raise money for charities and increase awareness of the naturalness of masturbation. Since then, Masturbation Month has caught on in sex-positive communities across the world.

Kinkly explains Masturbation Month

One of the most amazing things about Masturbation Month is that anyone can celebrate it, regardless of their nationality, race, religion, or culture. To celebrate Masturbation Month, all you have to do is - you guessed it - masturbate! You can either get busy with yourself in private, host your own masturbate-a-thons, or join one of the growing number of citywide May Masturbate-a-Thons around the world. Who knows? Maybe you can set the next masturbation world record!
---
SFWEEKLY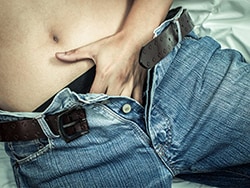 A 'Hand' Book for Male Masturbation
The new masturbation manifesto and advice manual Better Than the Hand has a bank of spank tips that are hard to beat.
Date: May 10th, 2017
Author: Joe Kukura
Every good San Franciscan knows that May is Masturbation Month, but they may not be observing this as an occasion to improve their masturbatory skill set. That's why it's a stroke of genius that a new book written by author Magnus Sullivan, Better Than The Hand: How Masturbation is the Key to Better Sex and Healthier Living, was just published, tossing off a toolbox of masturbation techniques and providing meaty tips to extend these practices into partner sex (if you will).

"Even after 22 years of International Masturbation Month, we still find that so many people hold a bias against masturbation," Good Vibrations staff sexologist Dr. Carol Queen tells SF Weekly. "How can that be a good thing, to disrespect the one sexual pleasure-focused act that everyone can access whenever they want?"

Queen's lessons on masturbation served as the inspiration for Better Than the Hand, a volume of pocket pinball tips for men or anyone with a penis. It describes a series of hand-y steps and exercises to maintain erections for longer than 15 minutes, employing various sex toys for unique penile arousal scenarios, and using masturbation tricks to regain that erection after having already blown your load once.....
---
GLAMOUR
4 Items That Make Anal Sex Way More Comfortable
Date: May 5th, 2017
Author: Suzannah Weiss
Even though anal sex is becoming increasingly popular both as an act and as a topic of conversation, plenty of people are still (understandably) nervous about trying it themselves. The idea of trying to fit something up there can be daunting if you're not accustomed to it, especially without the natural lube vaginal sex typically supplies.

Remember, there's no pressure to do something you're not 100 percent into. As [Good Vibrations's staff sexologist] Carol Queen, Ph.D., puts it: "This isn't a good birthday present for the boo if deep down, you really don't want it." But if you're hoping to overcome your anal sex anxieties, there are some toys that can help.

Here are some products that can let you ease more comfortably into anal sex, or at least determine if you want to go all the way:....
---
Autostraddle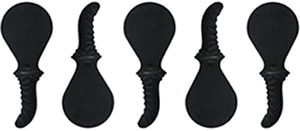 Anonymous Sex Toy Review: The Bück Dich
Date: May 2nd, 2017
Author: Anonymous
Over the last few years, sex toy companies and stores have asked us to review their toys in exchange for, you know, their toys. This week, one of our anonymous reviewers tried out Fun Factory's Bück Dich paddle, sent to us by Good Vibrations.

I took the Bück Dich paddle to a kink play event and it was the most popular kid at the dance.

It got passed around the leather bar and smacked against many palms to oohs and aahs. Three kinky friends donated their butts to science for me to paddle, and three experienced Tops hit me with it. My regular play partner and I also used it in private for serious, more naked research. Unanimously, everyone loved the Bück Dich. Here's why.

A hefty paddle with an aggressively ridged dildo for a handle, it is not polite looking, and I mean that as a compliment. Everyone who checked it out at the event said, "Oh," in a grave, shit's-about-to-go-down way. ("Bück Dich" means "bend over" in German.) This is also because it's silicone, which has a well-deserved reputation for stinging wickedly on impact. I got nervous seeing my very toppy play partner's smirk as she held it; likewise, holding it in front of whomever I was about to hit was super fun because they'd wiggle, squeeze their eyes shut and breathe "okay" like they were psyching themselves up to jump off a high dive. If trepidation is part of your foreplay, this is great tool....
---
hoodline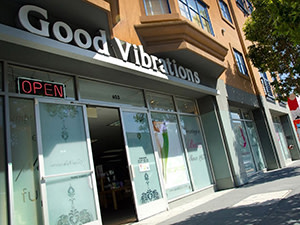 'Pleasure Is Your Birthright': Good Vibrations Celebrates 40 Years On Valencia
Date: April 12th, 2017
Author: Larissa Runkle
When sex therapist and marriage counselor Joani Blank first founded Good Vibrations in 1977, the idea of a well-lit, approachable sex shop only existed in her head. Nine locations and a thriving online business later, the sex-positive company celebrates its 40th anniversary at its first store at 603 Valencia Street (on the corner of 22nd and Valencia streets).

Now an institution along the retail corridor, Good Vibrations has come a long way from its origins.

In the age before the internet, gaining access to sexual education was practically impossible. "Women didn't even know about their bodies," said Good Vibrations executive vice president Jackie Rednour-Bruckman.

The first sex shop for women in San Francisco (and only the second in the country), the business immediately stood apart from Mission Street's seedier sex shops, which offered peepholes and porn magazines...
---
Vice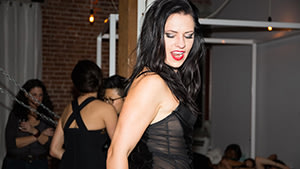 Why More Women Are Paying for Sex Services
Dominatrixes, porn distributors, and more spoke to the reasons women feel more comfortable buying sexual experiences than ever.
Date: March 27th, 2017
Author: Carrie Weisman
On Wednesday, the Institute for Women's Policy Research released a report that calculated the year the pay gap between men and women will close in America: 2059. A long ways to go, it goes without saying.

But millennial women, at least, are making more than ever before, and that's worth celebrating. More money means more opportunity to invest in recreation, and sex has a way of working itself into that realm. According to those with different hands in the pleasure industry, from professional dominatrixes and porn distributors to escort agencies and more, an increasing number of women are coming forward to invest in their services.

...According to Dr. Carol Queen, an author, educator and staff sexologist at the San Francisco-based sex shop Good Vibrations, these kinds of in-person endeavors can help women map their progress toward sexual self-discovery. "In an era when people feel they can learn it all online, I think many feel the next step might be exploring in a controlled environment," she said.
---
Glamour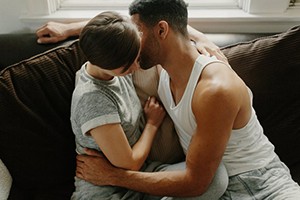 Don't Worry: Catching Feelings After a One-Night Stand Is Super Normal
Date: March 21st, 2017
Author: Glamour
...
"It's actually fantastic that you're connecting with people in a warm way, so don't shut down these feelings completely. Think about it this way: Feeling nice about someone you had nice sex with makes as much sense as feeling nice about someone that you had a good conversation with. Acknowledge your feelings and take them for what they are—a pleasant reaction to a pleasant experience, and that's it. Oh, and remember: You could also get out of this loop by masturbating sometimes instead!"
—Carol Queen, Ph.D., author of The Sex and Pleasure Book: Good Vibrations Guide to Great Sex for Everyone
---
Bustle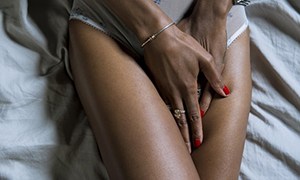 Why Does It Feel Like I Have To Pee During Sex? 3 Common Feelings & How To Deal
Date: March 10th, 2017
Author: Suzannah Weiss
If you've ever had the urge to get up and pee during sex, you're definitely not alone. This is a pretty common feeling to get when something's pressing on the inside of your vagina, Good Vibrations staff sexologist Carol Queen tells Bustle. Sometimes, it really does just mean you have to pee. But other times, pushing through it can yield some pretty rewarding results.

That "I have to pee" feeling usually comes about because your bladder and vagina are so close together, says Queen. If your bladder is full, it'll be more easily pressed, so one way to avoid the sensation is to pee before sex. It may get harder if you wait until you've started due to the engorgement that happens when you're aroused.

If you really have to pee, the sensation will probably get painful, says Queen. But if you don't, there's a chance that you're actually going to squirt. "Pee-urgency really is a notorious sensation felt by those who are about to ejaculate," says Queen. "It's likely associated with the excitation of the nerves that serve both the bladder and the so-called G-spot." So, if you're not experiencing too much physical discomfort, it may be worth pushing through.

Not sure what describes your situation? There are three different ways the peeing feeling might show up, says Queen. Here's how to deal with each one.
---
SFWeekly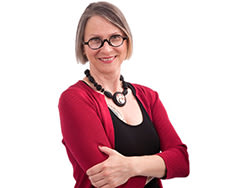 The Patron Saint of Sex
Carol Queen is battling cultural misnomers about sex, one lecture at a time.
Date: March 2nd, 2017
Author: Jessie Schiewe
The week of Valentine's Day was busy for Carol Queen. Then again, so are most weeks for the sexologist who, in addition to being the oldest working staff member at Good Vibrations, is also a lecturer, author, educator, and founding director of the nonprofit Center for Sex & Culture.

In fact, in the span of four days, Queen achieved more than most people would in a week. On Monday, she gave a lecture about porn, media, and 50 Shades of Grey to a student group at the California Institute of Integral Studies. The next day, she did a presentation for the Young Presidents' Organization, where she discussed cultural sex myths, like the belief that women can only orgasm through intercourse. (Not true.) On Wednesday, she hosted a class about reproductive justice rights for queer and trans-identified people at Good Vibrations. And by Thursday, she was at the Asian Art Museum, talking about antique vibrators and 2000-year-old dildos for the launch of a new exhibit called Tomb Treasures.
---
attn: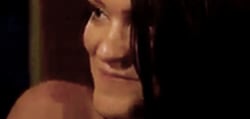 'The Bachelor' Highlighted a Women's Sexual Health Issue
Date: February 29th, 2017
Author: Kyle Fitzpatrick
ABC's "The Bachelor" is known for showcasing sexy romances on the small screen, but last night's episode was a step in a different direction.

Finalist Raven Gates revealed some personal information that highlights a much bigger problem for straight women in America: she has never had an orgasm.

...Dr. Carol Queen, sexologist at Good Vibrations and author of The Sex & Pleasure Book, sees this problem stemming from a mis-education about female anatomy.
---
The New York Times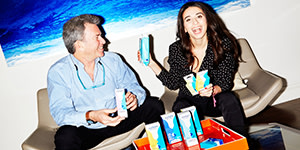 Eco-Friendly, Nontoxic and Vegan: It's a Condom
Date: February 17th, 2017
Author: David Gelles
A dozen employees at Ricky's, a beauty shop in downtown New York, huddled below a display of lustrous wigs. Around them, hair irons, press-on nails and makeup kits were stacked to the ceiling. But on this morning, the clerks had gathered to learn about an unusual new item on the shelves: nontoxic, eco-friendly vegan condoms.

Meika Hollender, the co-founder and co-chief executive of Sustain Natural, addressed the crowd and showed off her wares. The latex in Sustain condoms comes from a Fair Trade rubber plantation in Southern India, she explained. The factory is solar powered. And the condoms are free from nitrosamines, possible carcinogens found in many popular brands.

...
Coyote Amrich, the director of purchasing and product development at Good Vibrations, a chain of sex shops, said more customers were asking for Sustain and other environmentally friendly brands. "There's a growing environmental awareness," she said. "But does that mean everyone wants to know if their condom is vegan? No."

Sustain is not the first condom of its kind. Glyde, a rival brand, also makes vegan condoms that are certified as Fair Trade, a designation used by manufacturers to connote sustainable farming practices. And certain varieties of the major condom brands, including Trojan, Durex and Lifestyles, also are nitrosamine free.
---
The Harvard Crimson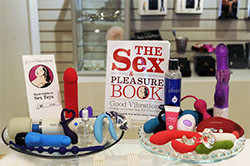 Good Vibes Only: Good Vibrations Staffer Preaches Sex Positivity
Good Vibrations is a "pleasure boutique" founded in 1977 with the goal of creating a "clean, well-lighted alternative to conventional adult bookstores," according to its website.
Date: February 23rd, 2017
Author: Sadie C. pate
Tucked into a nook of Harvard Square, Good Vibrations lies below the sidewalk and down a set of quaint little stairs.

Flanked by delicate flower pots and a dainty curved handrail, the entrance to the bright and spacious store is conspicuously welcoming.

Good Vibrations is a "pleasure boutique" founded in 1977 with the goal of creating a "clean, well-lighted alternative to conventional adult bookstores," according to its website. The business originated in San Francisco and made its East Coast debut in 2006 in Brookline, Mass. Last month, Good Vibrations opened its ninth store in Harvard Square.

"We're a place where anyone, regardless of gender or sexuality, can feel comfortable coming in, asking questions, and getting an education alongside a really quality product," says Allyssa S. Prutzman, a Sex Educator-Sales Associate—SEAS—at Good Vibrations. "Pleasure is your birthright, and you deserve to feel it no matter what walk of life you're coming from. And you deserve to feel it in a shame-free way," she says.
---
The Harvard Crimson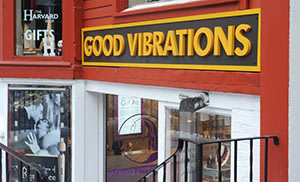 Square Abuzz with Entry of Good Vibrations Sex Shop
Date: February 16th, 2017
Author: Alison W. Steinbach and Katherine E. Wang
Harvard Square is picking up Good Vibrations from a new sex shop at 52 JFK St. Good Vibrations, a San Francisco-based business, held its grand opening in January after a "quiet" opening in October. The Harvard Square location is its second in the Boston area, joining the seven branches in the California Bay Area and one in Brookline.

In addition to selling a wide variety of sex toys and other products, Good Vibrations holds educational workshops on sexual health and pleasure. According to the store's website, staff members are all trained sex educators, and the store focuses on providing information and answering questions about products.

In an emailed statement, Lita D. Peña '19, co-president of Sexual Health Education and Advocacy Throughout Harvard College, said the store's arrival will help mitigate the stigma surrounding sex toys and sexual pleasure.
---
Spartan Daily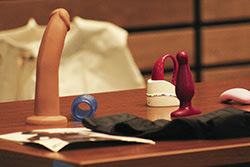 SJSU talks toys and safe sex
Date: February 8th, 2017
Author: Kristin Lam
Good Vibrations, a Bay Area-based sex retailer, held a LGBTQ sex and sexuality workshop in the Campus Village 2 Multipurpose Room Tuesday night.

The Pride Center and Rainbow Village – an open-themed community in Joe West – co-sponsored the event titled "Sex Talk with world famous sexologist Dr. Carol Queen" in order to teach safe and consensual queer sex education.

Music technology sophomore and Rainbow Village resident advisor Zuri Lazare said that everyone was welcome, but the event was mostly targeted toward students in the LGBTQ community.

"I hope they'll get more understanding about queer sexuality as well as consent within different ranges of orientation and different genders," Lazare said. "As well as safe sex in general because I feel like everybody needs that."
---
the Bold Italic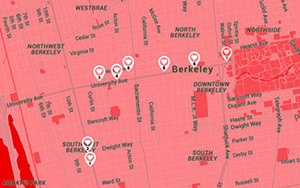 Downtown Berkeley Is for Lovers
Date: February 7th, 2017
Author: Sarah Miller
Last year I had a great idea for Valentine's Day: a "sexy" walking tour of Berkeley. My (now ex-) boyfriend wasn't into it, and my dream was deferred. What the fuck, right? It's true.

...Next stop is Good Vibrations (#2). I don't know what gets you off, but I think a little something that slips into your skivvies with Bluetooth would be fun to use on the walk. Also, pick up some kind of oil or lubricant.
---
The Globe and Mail
Fifty Shades versus BDSM: The reality of consent
Date: February 2nd, 2017
Author: Charyn Pfeuffer
...
"In BDSM, it is common practice to discuss ahead of time what all partners want to do, and what limitations they have," says Carol Queen, the staff sexologist at San Francisco sex-toy shop Good Vibrations. She adds that these limitations are sometimes based on boundaries, and sometimes on health issues, "as when a person who has asthma shouldn't have a hood put on them."

Queen began exploring BDSM in the 1980s, and says that it's where she first heard the actual word "consent" used regularly, and discussed as an integral part of an erotic experience. She says it's far less common for those having "old-fashioned skin-to-skin sex" to have involved conversation about what they like, don't want to do and what kind of STIs they might have.

She believes that most of us are poorly equipped to have an honest dialogue about sex and that many negative experiences – from awkward misunderstandings all the way to sexual assault – might be avoided if we got comfortable with these conversations. "The BDSM players are among the only people on the planet who elevate sexual/erotic communication this way," Queen says. "We all have tons to learn from them."
---
askmen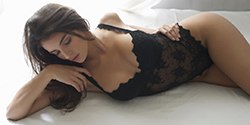 Kinky Valentine's Day Ideas
Date: February 1st, 2017
Author: Aly Walansky
Valentine's Day is said to be the most romantic day of the year, but a lot of us aren't basic flowers-and-chocolates types of people. If you want to do something a little more special than the same old thing that everyone else does (we have Hallmark cards for that!), there's a lot of edgy, fun, and absolutely still romantic ways to have a sexy and exciting V-Day.

Whether you embrace the day by trying a new toy or a new sex game, or do so via a gift — there's many ways to be naughty and still share the love. There are a lot of kinky ways to celebrate Valentine's Day. There's also experiential options: you can go on a trip or do something really meaningful together that will bring your relationship to a whole new level.
---
attn:

The Taboo Tip Straight Men Can Take From Gay Men About Sex
Date: January 27th, 2017
Author: Amber Rose
Remember earlier this year when Amber Rose suggested that Kanye West enjoys anal penetration?

It was a silly exposure of bedroom antics that highlighted a taboo subject related to male sexuality: saying a man enjoys anal sex is basically a gay slur.

While Amber may not have been insinuating that Kanye's #FingersInTheBootyAssBitch-ness made him same sex oriented, the subtext of her Tweet was one of emasculation, that his enjoying a little butt play makes him inferior.

Ironically, the act is one of the safer sex practices and, according to a popular 2010 study, anal sex had a huge rise with women. Why? Because anal sex heightens pleasure—for everyone.
---
Autostraddle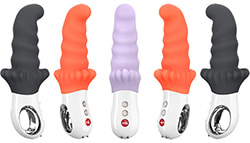 Anonymous Sex Toy Review: The Moody
Date: January 20th, 2017
Author: anon
Over the last few years, sex toy companies and stores have propositioned us to review their toys in exchange for, you know, their toys. This week, one of our anonymous reviewers tried out the Moody from Fun Factory, available at Good Vibrations.

I'm a sex toy late adopter. My workhorse vibrator has, for too long, been a Con-Air plug-in "personal massager" from Walgreens with the shape and charisma of a 1950s hair dryer. So meeting the Moody, a vibrator that charges via USB in my laptop, felt like an upgrade to the future.
---
Current Press Archive: 2017 |2016 |2015 | 2014 | 2013 | 2012 | 2011 | 2010 | 2009 | 2008 | 2007