The Good Vibrations' Toys Everyone's Talking About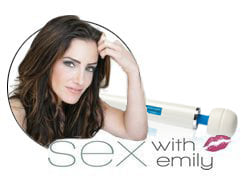 We asked sex-positive leaders, sex educators, authors, adult movie directors and stars what products they recommend.
Sex experts travel the world sharing resources and information about sexual health and sexuality, and are well-versed on the latest and greatest sex toys in the industry. Here are their favorite products.
Featured Mover & Shaker: Emily Morse from Sex with Emily, and her favorite Magic Wand Vibrator!


See Emily's list!