About Good Vibrations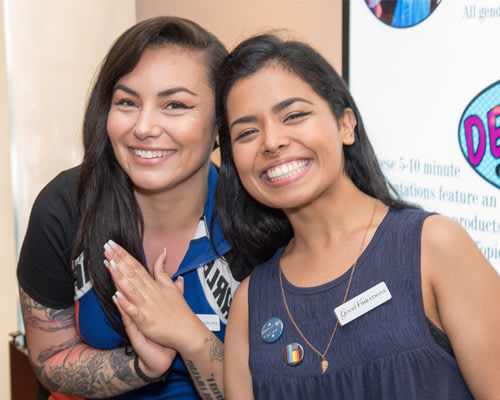 Good Vibrations is the premiere sex-positive sexual health and wellness toy retailer in the US. Our customers trust us to provide education, high quality products, and information promoting sexual health, pleasure, and empowerment. We are proud of the model we innovated: creating a safe, welcoming, and non-judgmental environment where customers can shop for sex toys and books, as well as attend workshops and inspiring events.
Good Vibrations History
| | |
| --- | --- |
| | In 1977 sex educator Joani Blank (1937-2016) founded the original Good Vibrations store in San Francisco. She pioneered an alternative to conventional adult stores by focusing on sex education and women's pleasure. Quickly it became clear that men appreciated this approach as well, and over the years our emphasis on women has been maintained and expanded to include people across the gender spectrum. |
| | |
| --- | --- |
| Joani sold the company to its employees in 1992, making Good Vibrations a worker-owned cooperative. We developed this alternative business model for 15 years as the marketplace became more competitive. Good Vibrations ceased being a co-op in 2006 to continue to grow and share our mission of sex- positivity. | |
Though our business has grown over the years, our mission and values have never changed. We have led the way on many fronts: We helped start other 'sister' businesses in the 1990's. In 2001 we were the first sex toy company to refuse to sell toys with phthalates; we were the galvanizing force behind the pressure on manufacturers to adopt body-safe materials. We increased our community sponsorship of local and national non-profits through our GiVe Program, supporting organizations that include Stop AIDS Project and Planned Parenthood. We've developed dozens of private labeled products based on customer feedback and requests.
| | |
| --- | --- |
| | We have also responded to and influenced the culture. We created International Masturbation Month as a sex-positive response to the firing of then-Surgeon General Dr. Joycelyn Elders. We introduced the Summer of Consent, a call for writing, teaching, conversation and commentary about the role of enthusiastic, informed consent in our sex lives. |
| | |
| --- | --- |
| We are guided by a diverse management team; many of the leaders have worked with the company for more than a decade. Good Vibrations is proud to be devoted to education, quality, sustainability and pleasure. | |
---
Throughout our history, Good Vibrations has always remained devoted to our mission:
Our Mission
We believe that pleasure is each person's birthright and that education opens the door to sexual health, comfort, and authentic expression for everyone. Since 1977 Good Vibrations has provided the best available pleasure and sex-related products paired with accurate and trusted sex information in a safe, comfortable and shame-free environment.
Vision
We work toward a day when all people (of all genders and all orientations) have access to safe, non-judgmental, sex-positive information, products, and resources so they can cultivate their own best sexual health and intimate choices. We help make this vision a reality via raising awareness of the many diverse issues surrounding sex and gender. We focus on comfortable and informed communication in our stores, online, and in our community outreach. Our extensively trained Sex Educator Sales Associates (we call them SESAs) and other company representatives highlight sexual knowledge, options, and quality products and represent our values to the public.
Values
Good Vibrations strives to be an agent for community service and social change. We care deeply about sexuality and gender, diversity, environmental awareness, and ethical business practices. We rely on a diverse and educated workforce to support our customers. They represent our company vision: a focus on quality, comfort, and freedom from shame. Providing trustworthy information from a sex-positive perspective allows us to connect with people and positively affect their lives, and this makes our own work meaningful. Within our organization, and throughout the communities we serve, we work to foster respect.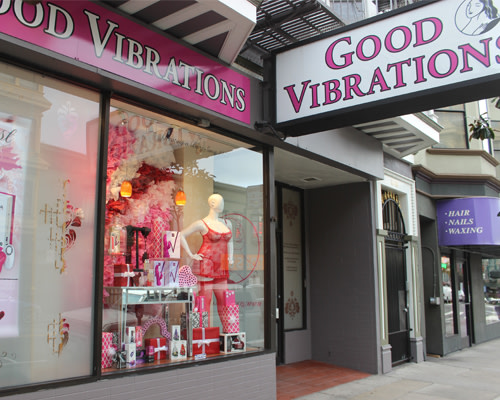 ---
Frequently Asked Questions
Can I find you on social media?

Yes! Let's stay in touch:
Tell me more about your sex education programs.
We employ a Staff Sexologist, Dr. Carol Queen, who has been part of Good Vibrations since 1990. We are known for our workshops and classes, the offsite Sexual Health Outreach Workshops (SHOW) program run by Educational Outreach Manager Andy Duran, and many other community-focused events. Because they are our front-line representatives of sex-positivity, all SESAs participate in an extensive training program taught by our Education Department.
How do you choose the products you sell?

We inventory the highest-quality toys, relevant books, and an assortment of lubricants and condoms. We recognize that the diversity of our customers' interests requires a range of options. We encourage customers to share feedback with us and regularly offer this information to manufacturers in order to encourage them to improve their products. Over the years, we have inspired many positive changes in our industry.

As part of our commitment to quality information, we tell our customers about a product's advantageous features and well as any limitations. While we make suggestions based on assessments of customer needs and desires, we do not employ any sales tactics involving undue pressure to purchase. Good Vibrations does not carry products that exploit sexual insecurities or people's desire for a "quick fix" solution to sexual dysfunctions.

To ensure that the products we carry meet these standards, we review every sex toy and book before we consider placing it in inventory.
Who can shop at Good Vibrations?

All adults are welcome at Good Vibrations stores, and no one is excluded based on identity or their preferences in consensual adult sexual behavior. We make every effort to meet customers where they are in the evolution of their own personal sexual development. The law requires our in-store customers as well as our online customers to be 18 years of age or older.

We value and respect our customers' privacy. Every package is discreetly shipped and we never sell or rent your email address.