Bondage and BDSM: Sex Toys For If You're Interested in Kink - What to Look for And What to Avoid
By: Carol Queen, PhD
Introduction to Kink Toys
What is a kink toy?
Virtually any toy—or ordinary household object!—could be used as a kink toy if it's being utilized to enhance kinky sensations or kinky play. "Kink" can be defined quite broadly but it is closely tied to BDSM play and most of the available toys on the market help partners create the kinds of BDSM scenes they want to explore.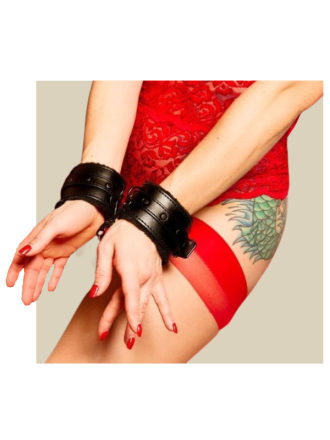 BDSM stands for Bondage & Discipline, Dominance & Submission, and Sadism & Masochism.
Bondage play involves being restrained: tied up, put into cuffs, or other forms of restricted movement.
"Discipline" in this context often means spanking or impact play, though some people might think of other kinds of discipline when a punishment scene is on the menu.
In Dominance and submission one partner, the Dominant, takes charge of play–typically after they negotiate with the submissive partner so desires and boundaries are clear. D/s can include many roles or acts—but bottom line, one partner is the Top and the other consensually submits to them.
Sadism is excitement in giving a partner pain, while masochism is excitement from receiving it–though in the kink community this is often translated to "intense sensation," since the masochists who enjoy receiving that pain often do not find it painful!

A kinky person may like to do any and all of this, on either side of the Top/bottom divide—or both sides depending on their mood! BTW: Top/bottom is shorthand, referencing who is in charge of doing negotiated things (the Top) to the other person (the bottom). But you can be kinky and not choose to play in all these ways; you can have specific preferences, and any limits that feel right for you.
So, kink toys are playthings that facilitate bondage, impact play, and sensory play, plus costumes and accessories that might help the players establish their roles or explore various kinds of roleplay.
The Importance of Consent and Safety
It's very much a myth that someone who's kinky will do anything with anyone. If anything, kinky folk have a culture that respects limits and boundaries as much as fantasies and desires! You can't give yourself over to intense experience unless you know your boundaries will be respected.
Therefore, consent and communicating about it are super-important. And to give consent, you also want to be able to communicate about the things you do not consent to—or you might, but only under certain circumstances. Two strategies help with this: a Yes/No/Maybe list, where you group activities into things you want to do; might want to do, and don't want to do. The No list includes things for which consent isn't given. The first two lists can be fine-tuned with negotiation so you have the best chance at the experience you want.
The other tool is the safe word—a word you choose ahead of time that means "Stop the scene!" Saying "stop" isn't the best safe word because who knows, when you're playing Damsel Tied to the Railroad Track or Pirates, you might want to yell "NO" and "STOP!" at the top of your lungs for fun, because it's a role-play. So a safe word is a separate word that is used (commonly, "red," but you could pick something else instead) so both partners know the difference between fantasy talk versus communicating about a boundary or a need to stop.
These are the beginnings of your safety infrastructure. When bondage and impact play and other intense experiences are being explored, partners have to keep each other safe. Knowing how a person might react to different scenarios comes with experience, and many principles can be learned in books and classes. For instance, too-tight bondage can cause nerve damage. Striking certain parts of the body can cause harm. A responsible kink player learns about these things and chooses their toys accordingly.
Understanding Your Kink
Kinky desires used to be (and still can be) very misunderstood, though - thankfully - the kink community and mental health professionals mostly understand each other much better these days. But if you are new to these interests, you might have have some questions or confusion, too - and that's perfectly okay! Books and classes are great tools for helping you understand your desires, and so is actually participating in the community. Support and information are out there.
Choosing Your First Kink Toy
Most importantly, what do you think you'd like to experience? Is there a scenario you always get turned on by when you encounter it in erotica or porn? What do you fantasize? (Though you don't always have to actually want to try out fantasies!) And some are impossible, of course—nothing is as vast as a turned-on brain! But some people definitely want to try things out IRL. In this case, of course, knowledge and info are very important.
Do you have a partner who wants to explore those things with you? Or can you find one who does? Many kinds of kink play, though not all, can also be worked into masturbation.
The World of Kink Toys:
Bondage toys can be about simple restraint; they can enforce immobility or particular positions; they can be used for suspension or making a submissive look kinkily elegant, as when rope is used to make a corset. Some like bondage for the sensation; others like it for the power play that it can involve.
Rope is a special bondage toy because of the way it feels on the skin and all the many creative ways it can be used. If someone wants to be a rope Top, they should expect to practice a lot of knots and learn the characteristics of their chosen fiber. Rope play can be deeply personal and creative, but learn anatomy so no mistakes are made.
Good Vibes has never carried cop-style metal handcuffs, because a person who's active in their bondage (and some people love to thrash!) can sustain injuries from the unyielding metal. We prefer buckling or locking cuffs that spread the pressure out and often have a soft interior to better protect the bottom's precious nerves.
When your bondage gear is designed to arrange a bottom spread-eagled on a bed, sex might not always be on the menu… but for many fans of bed bondage, that's the whole idea! These are designed to fit a mattress—and let the mischief ensue. There are versions that fit a doorframe as well, for standing bondage.
Spanking, flogging, whipping, paddling—some people love the sensation of being struck by one of these implements. There are two main types of sensation, depending on the toy—and each has their fans. Stingy toys (these are usually thin, and can be rather rigid, like canes) create a fast strike and a stinging sensation. Thuddy toys tend to be wider and heavier, and they are more like a strike to the muscles below the skin.
A whip is used to strike another person and it generally consists of a handle plus a braided tail of leather or some other material. A flogger is also an impact tool, with a handle and multiple tails. Whips can be very stingy, but their cousins, floggers, may be quite thuddy, especially if they have many tails and are soft suede or leather.
These are usually thuddy, since they have a rather wide and often flat strike area. They may be smooth, or have studs or cutouts to alter the sensation; they may leave a red mark upon hitting, or even a bruise. Some paddles are also called spankers.
Sensation play is any kind of play that is designed to excite the senses, especially our sense of touch. It can (but doesn't always) include intensity or pain. Some examples include temperature play, light sensation like feathery touches or tickling, electricity, friction and much more. There are so many ways to stimulate the body! The skin is our largest sensory organ, and kinksters know this well!
Nipple toys either use suction or pinching to highly stimulate these sensitive areas. Nipple sensation feels good–or good and intense–because they are so nerve-laden. Any area of the body with lots of nerves may be of interest to those who like to play with sensation.
Pinwheels, claws, and other toys that cause sensation also have many fans. While these can be used with a light touch and do not always cause any pain, some really enjoy pain for pleasure–this is one of the characteristics of a masochist, but others who don't identify that way may like the "trip" they go on (partly due to our body's chemistry of arousal) when they play intensely.
Kink can be quite romantic, and one element of this is collaring. "Collaring" means the stage in play–or in a relationship–when the dominant puts a collar around the neck of their submissive. It can be an expression of commitment much like wearing someone's ring—or it can simply signal that play has begun, the collar not to be removed til the scene is done.
A gag is a ball, cylinder, bit, or other shape made of soft material that can be put in a submissive's open mouth and attached via a buckle or tie. A gag keeps the mouth open and adds to a sense of total submission. Always choose a gag that cannot be bitten through, damage teeth, or come apart and cause a choking risk. There are also breathable gags if that's more comfortable for you.
Some like to be placed in a locked device that prevents masturbation, erection, or penetration—and then giving someone else the key to hold.
Shopping for Kink Toys on a Budget
You don't have to spend a lot of money for most kink toys, though if you see inexpensive items that don't look well-crafted or sturdy, maybe keep shopping. The most expensive items are usually bondage furniture and fetish clothing, though you can also find high-end impact play toys and one-of-a-kind kink toys… for a price.
Choosing high-quality toys is important for safety reasons–you don't want an implement that could break or come apart during use. But many pieces of gear that can bring much pleasure (or intense sensation!) can be found for under $100. Let your kink curiosities lead you so you can window-shop and work out a budget.

Embracing Your Kink and Being Considerate of Others
Be proud of your sexuality and your kinky side! Do so by learning all you can, exploring with curiosity and wonder, communicating clearly, always observing consent, and above all, respecting your play partners. Kink is collaborative and helps people learn to explore sex and play to find their best erotic selves.

Get Ready to Play
Choose a safe word, make your Yes/No/Maybe list, and see if you can find a willing partner to explore your kinky sides!
You'll learn so much about what you enjoy and why. And if you are only kink-curious—that's good too! Our boundaries and our fascinations are all there for a reason. Happy and safe kinkery!