Sexual Health Outreach Workshops
For over four decades, Good Vibes has been providing comprehensive sexual health outreach workshops (SHOWs) to local universities and community organizations.
SHOW: Off-Site Workshops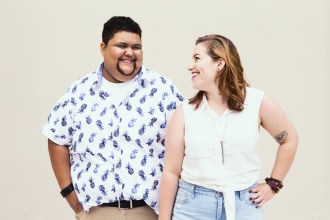 Our Sexual Health Outreach Workshops provide answers to tough questions, present up-to-date and accurate sex information, promote pleasure exploration, and build community dialogue on topics that are sometimes fraught with sexual shame and stigmatized due to political or cultural influences.
We are in high demand at universities such as Harvard, UC Berkeley, Stanford and Mills. We do workshops for college classes, conferences, and numerous service organizations as well as presenting to counselors, therapists and educators from different fields. All presenters are highly trained sexuality educators, coming from a wide range of backgrounds, so we can provide workshops on many different topics.
Topics Include: 
Pleasure Physiology & Toys – Our most popular workshop! This course provides a pleasure-based overview of anatomy, sexual response, and how to choose and use sex toys safely. Learn the fundamentals for understanding your own pleasure and gain the tools needed to share with potential partners. This comprehensive and fun overview is inclusive of all genders, sexualities, and body types. 
Communication, Negotiation, & Consent – The key to great relationships and sex is great communication, and we're here to get the convo started! This workshop includes an overview of what consent really means, how to express boundaries, introduce new ideas into your sex life, safewords + scene negotiation, and how to use dirty talk as a form of communication. 
Sex Positivity – Sex can be an emotional or taboo topic for many of us, and we can often carry and transfer a lot of those mixed feelings or even sexual shame towards others without even realizing it. In this class we will cover developing healthy and positive attitudes toward sex and in examining our own needs as a crucial part of meeting them. We'll address how sex-negative attitudes influence us as individuals and learn how to counter that with education and celebration of our diverse and unique experiences and identities.  
Solo Play 101 – This course will go over some of the many values of masturbation. We'll cover the anatomy of pleasure, an overview of physical & mental benefits, some tips and tricks for body exploration, debunk common masturbation myths, and embrace body positivity. 
Other available courses: 
The Art of Oral  
Exploring BDSM 
Backdoor Basics: Anal 101 
G Marks the Spot: G-Spots + Squirting 
Just the Tips: Penis Play 101 
Harnessing Pleasure: Strap-on 101 
Talk Dirty to Me: Sexting + Dirty Talk 
Viva La Vulva: Clits, G-Spots, + more 
Custom courses available on request. Please note that some courses may be limited to educator availability.  
Populations we love working with:  Women , Communities of Color , Folks with Disabilities , Seniors , Survivors of Sexual Trauma, Medical and Mental Health Professionals , Queer/Trans Folks , Sex Educators , Sex Workers , and Therapists and Service Providers .
Good Vibes SHOW & Tell: In-Store Tours
With so many options to choose from, who better to help you navigate our selection than your very own trusted Good Vibes Sex Educator-Sales Associate. These guides receive continuous new product information and are trained to conduct information-packed, lively store tours.
Be our guest at one of our retail locations for a personalized tour for your group. Guests will receive a detailed and fun overview of our company history, our mission, and of course, our quality product line and they'll be able to ask questions in a fun, informative setting. Your group will receive the chance to see which products we're excited about, and ultimately, which products are best for you.