Pop! Ejaculating Dildo
Pop! Ejaculating Dildo
You've been asking us for it for years, and we finally found it! This silicone ejaculating dildo was originally designed and marketed as
Please select a product option first
We're sorry. This product is not available at this time.
Description
You've been asking us for it for years, and we finally found it! This silicone ejaculating dildo was originally designed and marketed as the Semenette to allow people who wanted to inseminate in sexy, not clinical style. Now the inventor has partnered with our friends at Fun Factory, using their popular Boss design, to create a semi-realistic ejaculating dildo with superior quality and engineering. Use it for pleasure, fantasy, and (if desired) as a way to inseminate a partner. Featuring specifically designed inner tubing which allows you to have sex and re-create an ejaculation in the sexiest way possible. While the tubes and bulb were designed to be one-time use, they can be cleaned easily, particularly if it's not being used for insemination. For those choosing to use semen, we would recommend purchasing the Pop! Refill Kit.

Please note that when re-using the inner tubing, you should ensure for safety and comfort's sake that the plastic tip fits all the way into the body of the dildo and does not protrude. This tip locks the tubing into place; please be sure to read and follow manufacturer's instructions (included). This is especially important when using the Pop! anally.
New Ultra Marine color exclusively available at Good Vibrations
Pop! Ejaculating Dildo
Ultra Marine, Blackberry, Slate, Toffee, or Cocoa Silicone
Casted urethane polymer tubing & bulb
Length: 7.5" (19cm)
Insertable Length: 7" ( 17.8cm)
Diameter: 1.75" (4.4cm )

Please Note: This item is not eligible for discounts or promotions.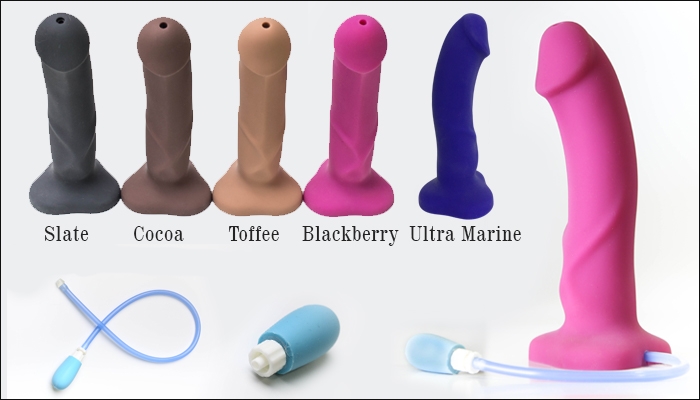 Product Video
Brand: Semenette
Product Details
Warranty: 2 Year