RodeoH Buttonfly Boxer Fabric Harness
Description
Stylish, boyish, and oh-so-comfortable, these well-fitting 2-button boxer-style shorts double as a well-designed dildo harness. No more straps, buckles and D-rings––instead, these 95% cotton, 5% spandex boxers slip right on and the buttons conceal an easy-to-access built-in ring that fits your favorite toys. Packer-friendly and double dildo-compatible, this easy-to-wear, masculine-of-center harness keeps you ready for action and looking great! Machine wash cold, hang or lay flat to dry.
RodeoH Buttonfly Boxer Fabric Harness
Cotton and Spandex
Machine wash or hand wash in cold
Hang to dry
Recommended with dildos of length 5" to 6", and with diameter of 1 1/2" to 2"
O-ring stretches between 1 1/4" and 2"
Please Note: This item is not eligible for discounts or promotions.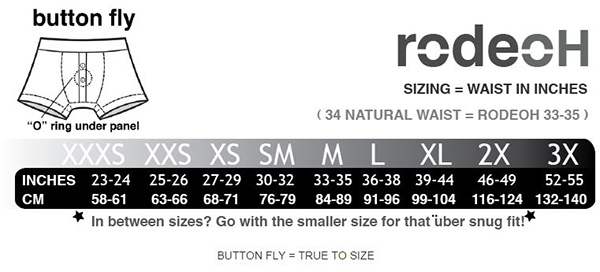 Brand: RodeOH
Product Details
Material: Spandex / Cotton
Color: Black
Style: Boxer
Dimensions: 25-26" Waist
Warranty: 30 Days