We-Vibe 3 Couple's Vibrator
Experience the evolution of the We-Vibe 3, our revolutionary couple's vibrator.
Please select a product option first
We're sorry. This product is not available at this time.
Description
Experience the evolution of the We-Vibe 3, our revolutionary couple's vibrator. This innovation in mutual partner pleasure still boasts the same features of previous iterations -- simultaneous internal and clitoral stimulation, a supple shape and comfortable wear during penetrative sex –- with some savy and sexy new features! The waterproof and rechargeable We-Vibe 3 offers a wireless charging base that doubles as a discreet storage case. Operation has never been this easy or fun as you control this powerhouse via an on-board push button interface OR the included wireless remote control! We-Vibe 3's six vibration modes are even MORE sensational with a boost from the two powerful motors (stronger than previous versions) that keeps the passion going thanks to the longer lasting battery. Environmentally-friendly and erotically rechargeable, this vibe by We-Vibe is the next generation of partner pleasure.
We-Vibe 3 Couple's Vibrator
Purple, Teal, or Ruby Red Silicone
3" x 1" x ¾" (8cm x 2.9cm x 2.1cm)
Rechargeable, charging base included
Volume: 2; Intensity: 3
"Good Vibrations has been an authorized seller of We-Vibe products since 2008, the year the first We-Vibe was introduced. Anyone who purchases a We-Vibe product from Good Vibrations can be assured that they are purchasing an authentic We-Vibe product."
--Tori Parker
Director Business Development | Standard Innovation Corp./We-Vibe

2012 X-Biz Awards "Innovative Pleasure Product of the Year – Technology", and 2012 AVN "O" Awards' nominated "Outstanding Product for Women", "Outstanding Luxury Product", "Outstanding Innovation", and "Outstanding Powered Product"!
How to synchronize the remote control
Step 1: Turn on the We-Vibe 3 massager in any mode manually by pressing the button on the nose,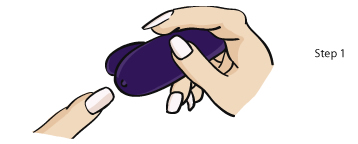 Step 2: Place the remote control directly next to the nose (c end) of the massager (so they are touching).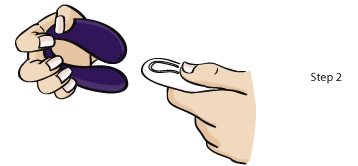 Step 3: Press and hold the remote control button until the massager turns off, about two to three seconds normally.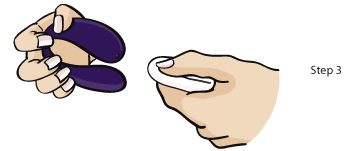 This completes the pairing process, and the remote may now be used to fully control the massager. You may need to try this a few times.
The We-Book of Delights
Brand: We-Vibe

Product Details
Warranty: 1 Year