Vanity Vr1 Vibrating Kegel Balls by Jopen
Vanity Vr1 Vibrating Kegel Balls by Jopen
Exercise has never been this sexy!
Please select a product option first
We're sorry. This product is not available at this time.
Description
Exercise has never been this sexy! Strengthen the PC muscles and enjoy vaginal vibrations and G-spot stimulation all at the same time. These silky silicone vibro-balls are waterproof and easy to clean, with dual motors that provide power and versatility. Plus they vibrate with each muscle squeeze, excellent for gauging the effect of your Kegel repetitions. Rechargeable, unscented, non-porous and hypoallergenic.

When exercising your PC (aka Kegel) muscles with a resistive device, or via any other method, remember that the correct way to exercise a muscle is not to simply tighten it. You must also relax that muscle—not only for maximum flexibility and functionality, but also to avoid injury. Our pelvic floor consultant suggests a maximum of 30 reps a day, remembering to fully relax each time.
Vanity Vibrating Vr1 Kegel Balls by Jopen
Purple premium silicone and ABS
4" x 1 3/8" diameter (10.16 x 3.45 cm)
Volume: 2; Intensity: 2

Body-safe -- Sex toys are made from many different materials, with varying amounts of information available about them, and many have not been tested for safety. We always choose better-quality items, and we give special attention to those we know to be safer.
Rechargeable -- Toys that can be recharged reduce the number of batteries that end up in landfill. We also encourage you to use rechargeable batteries if your favorite vibrator operates using disposables.
Recyclable Packaging/Materials -- When the package and/or material for your toy can be recycled, you can reduce the impact of your purchase on the environment.
Learn about our Ecorotic® Rating Criteria.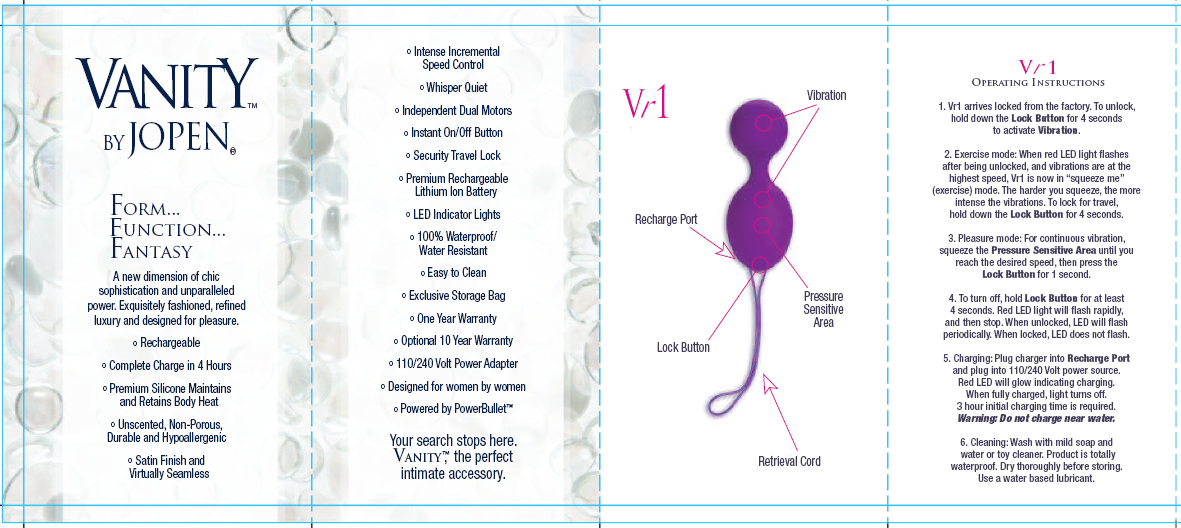 Product Video
Keywords: Bedroom Kandi, Ben Wa, BenWa, Vagina Balls
Brand: Jopen