Ready to Rumble? We got the Buzz
By: Good Vibrations
There are many important factors in choosing a vibrator: the size, how it functions, whether it's for internal or external use (or both), whether it's anal safe, how it's powered. But one thing that you can't see from looking at a toy is what the motor feels like.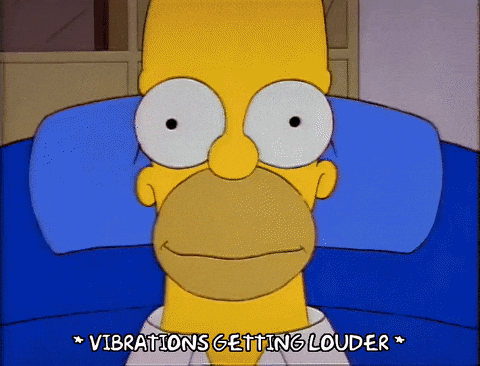 Many folks in the sex toy industry assign toys that vibrate on a spectrum from buzzy to rumbly. Think about buzzy like an electric toothbrush and rumbly like driving over the rumble strip on the highway. Typically, if you're listening to a toy, a buzzier vibrator will sound higher in pitch than a rumblier one.
❕ Make sure you don't confuse buzzy vs. rumbly with the intensity of the vibration—which is determined by the power of the motor—both buzzy and rumbly toys come in an assortment of intensities from gentle vibes to powerhouse toys!
⚡BUZZY⚡
In use, buzzy toys tend to be better for teasing and targeted stimulation because they provide a stimulation that feels more direct, targeting the surface of the skin. Buzzy toys can feel like a light hum or tickle, up to an intense vibration that really revs the area it comes in contact with.
Smaller toys, like bullets, and battery-operated toys tend to rock these high-pitch vibrations- so, if buzzy sounds like it's the vibe type for you, check out the Pink Passion Mini Vibe or the Kyss Rechargeable Lipstick Vibrator, both which feature that delightful sparkler of a motor.
In general, there are more buzzy vibrators on the market than rumbly ones, so sometimes people who have only tried buzzy vibrators think that vibrators don't work for them. In fact, it may just be that their body loves the rumble more but they haven't been able to find a rumbly vibrator, yet.
⚡RUMBLY⚡
When it comes to rumbly toys, they have a low-frequency vibration that tends to penetrate through the skin to stimulate muscle and tissue, providing a deeper massage. Did you know that with a powerful enough rumbly toy, you can actually stimulate internal hotspots while being used externally? Using one against the vulva can be felt in the G-spot, and held against the perineum (the taint) can even target the prostate! ~the more you know~
Wand toys, because of their large motors, tend to have those powerfully rumbly sensations- like the cult classic Magic Wand. But don't worry- you don't need to get something big or super powerful to enjoy deep vibration- Je Joue has an entire line of rumbly vibrators, like the Mimi Soft or the Mio Cock Ring.
〰️〰️〰️
In addition to buzzy and rumbly vibration, there are also tons of non-vibration based motors out there as well. Toys that thrust, pulsate, oscillate, and use suction are some examples of popular alternative ways to stimulate the body in new and exciting ways.
Toys anywhere along the buzzy to rumbly spectrum can be lots of fun and result in great orgasms—that's just gonna depend on your preferences!
When it comes to buzzy vs. rumbly, there is not best, only best for you!