Get Wet with Waterproof Toys 💦
By: Good Vibrations
Grab your toys and take a dip
As the summer temperatures start to rise, it's important to find ways to keep cool. You may not always be able to hit the beach or the city pool—but don't lose the opportunity to cool down and heat up! Just grab your toys and hit the showers!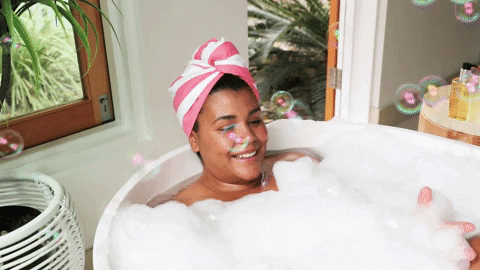 💦💦💦
But first- know what your toy can handle. Waterproof toys can be completely submerged underwater. Splashproof or water-resistant generally means the toy can get wet, but should not make its way completely underwater. An easy way to think of the difference in how you use them is "shower (splashproof) vs bathtub (waterproof)."
💧💧💧
Enjoy some penetrative play with a suction-cup dildo used against the side of the tub, or add some buzz to your suds with a handheld waterproof external vibe. Couples fun with a remote controlled toy can heighten shower sex or add the sexy option of "one partner's in the shower, being stimulated by the other person who's outside the shower watching." That's right, water play AND voyeurism!
💧💧💧
Don't forget the lube! Silicone lubricant like Please Silicone is the perfect choice to use in water with non-silicone toys, since it's naturally waterproof. Just be careful not to spill any in the tub, it's slippery.
Now time for a quick clean up! We love the Wash by ZeroTaboos, as it's an excellent bodysafe, fragrance-free soap and doubles as a gentle wash for your toys as well.
💦💦💦
Whether you share the tub or shower with a quarantine partner, or you find the bathroom is the only place you get enough privacy for some "me time"- grab a waterproof or splashproof toy and vibe out!