Get Outside: Exploring External Vibrators
By: Good Vibrations
Sometimes penetrative sex (either with a penis, fingers, or a toy) gets all the attention. And while there's lots of fun to be had inside the body, we don't ever want to forget the good sensations that can come from external stimulation.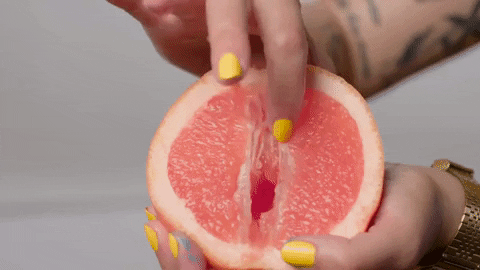 So today, we're giving a special shout out to vibrators who do just that!
The nerves outside the body, and those in the first inch or so of the vaginal canal, are the ones who are most vibration-loving. The nerves deeper inside the body typically respond more to fullness and pressure; that's why external vibrators—or internal vibrators with the motor closer to the base—are great for maximizing those ~Good Vibrations~.
External vibes are ideal for incorporating into partner play. In fact, from cock rings to finger rings to ergonomic bullets, there are a whole bunch of vibes on the market designed specifically with couples in mind! The Mio Ring can slide around a cock or around fingers for that amazing twice as nice sensation: external vibrations + internal fullness! 🍆 👉
And the Amo by Hot Octopuss or the Be One Finger Vibrator are designed with fingers in mind! They slide easily between fingers and between bodies for maximum pleasure and minimal grip so you don't tire out those digits. ✌️
The other thing we love about external vibes is their discreteness! 🤫🤫 🤫
While some of us may love to show off our toy collection, if you're traveling and want to slide under the radar or living with lots of roommates, sometimes discreteness is a top priority. Vibes like the Pom by Dame look as much at home on your bed stand as they do in with all your beauty products. And speaking of beauty, what could be a more beautiful blending of fashion and pleasure than the Vesper by Crave, a bullet vibes that doubles as a statement necklace. ✨
For all you who have a penis in your life, vulvas aren't the only body part to love vibrations! Sliding a vibrator like the Laya II down the shaft of a penis or cupping it around the testicles can add some exciting sensations to masturbation, a hand job, or a blow job.
When thinking about what vibe is best for you, think about whether you prefer direct, pinpointed stimulation, or broader, more dispersed vibrations. Something like the We-Vibe Tango is small and slim enough to get right in those folds so you can press its point against the clit! On the other hand, the LeWand PetiteLeWand Petite has a larger vibrating surface so, in addition to sending those delicious vibrations through the clitoris, you'll feel vibrations throughout the whole vulva.
Vibrations don't have to be limited to the genitals! Go wandering: experiment with the seductive sensations that vibrators can provide all over the body! The only thing to keep in mind is that anything exploring the anus must have a base. Even though the small size of some of these discreet vibes may appeal for anal beginners, stay safe and pick out a vibrating anal plug complete with base.
And whatever vibe you end up with, have fun exploring the pleasures of the skin and indulging in external stimulation.