Digital Get Down
By: Good Vibrations
Social Distancing is definitely the move right now, but that doesn't mean your sex life has to take a hit. Whether you're isolating without your partner and are relying on phone calls, video chat, and endless messaging on insta, or are shooting your shot on Tinder or Lex, sexting and digital dirty talk can provide some sexy distracting from the news and can boost intimacy, even if you aren't in the same place as your partner!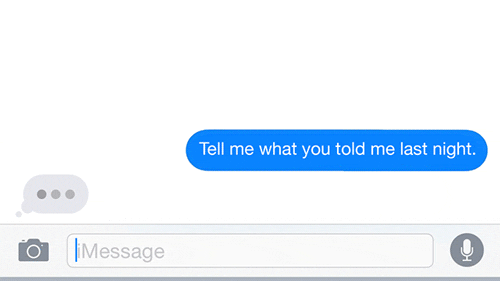 TBQH, texting is one of our favorite ways to practice dirty talk. You can be in the privacy of your own room to blush or be as giggly as you like, even if your words suggest that you're cool, calm, collected, and turned on! 🤭😳
Plus, you can take a bit more time to choose your words. Read over what you've written, maybe change a word that doesn't sound quite like what you want. Just make sure you aren't leaving your sexting buddy hanging for too long…😜
When you're starting to compose your sexy message, think about what words you like (and which ones you're not as into)! Maybe "pussy" really does it for you but "vagina" makes you think of going to the doctor…or maybe "fucking" better expresses raw desire while "boning" makes you laugh. Better yet, get to know what kind of words your partner likes to hear!
One way to offer that information is to say, "Mmmm…I really like when you call me your pet" or "Hearing you talk about my cock makes me instantly hard." Listen for those context clues from your partner—whether you're talking IRL or over the phone or are texting—to learn what words they like to use to describe their genitals, sex, and more.
Once you've thought about word choice, begin to build your scene. A great place to start is by narrating a previous sexy time. If you're narrating something that's already happened, you don't actually have to come up with the action—you can just find the right words to describe what went down…and who!
If you're social distancing or self-isolating away from your partner, tell them you can't stop thinking about them. Throw in a 😉 to make it real clear where your head's at.
Amidst all the stay-at-home orders, don't take it for granted that your sexting buddy is in a good place to receive a sexy message. While we might normally restrict our sexting to the off-work hours, all this time at home has our thoughts all over the place! Asking "can I share some sexy things I was thinking of?" before shooting off your dirty words is a great way to get consent so your partner doesn't blush in the middle of their company zoom meeting.
Once you feel like you've gotten a handle on narrating a previous sexy experience, try giving directions or telling someone what you want to do to them. How can that not sound sexy?!
"I can't wait to taste your pussy again." 🦪
"I want you to come inside me." 💦
Another great place to go in digital dirty talk is giving out compliments. Who doesn't love a compliment, particularly if it's about your sexual prowess or how amazing your genitals are!
"I love how good your cunt feels around my fingers."
"You have the best ass I've ever seen…or tasted 😝"
At the end of the day, sexting is a great way to build intimacy and communicate about what turns you on. Arousal doesn't stop just because we are on lock-down and, so at this particular moment, sexting can be a great way to explore sex while ensuring we are all doing our best to #flattenthecurve!
Stay sexy! Stay healthy!
Related Items- App Controlled Toys